How to Act Qualified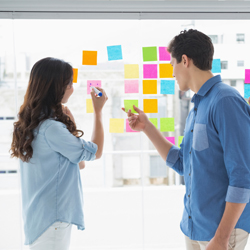 As you probably know from your own office, there are plenty of bozos in big jobs. The reason? They know how to fake it until they make it. It's a proven strategy. Here's how to make it work for you.
Be realistic. If you read a job posting with a list of superhuman qualifications, keep in mind that the employer is likely making a list of their dream employee's attributes: PR savvy, marketing whiz, fluent in Chinese, and with graphic design experience. Unless your personal skill set falls very short, you should consider applying for jobs that you are almost the perfect candidate for. Then bust your butt and prove you can get up to speed.
Look great on paper. If you're applying for a new job that would be a definite step up, make your cover letter and résumé shine. This may be your only chance to get in the door, so don't forget to submit a portfolio that strongly outlines your experience, qualifications, and successes.
Call in the reinforcements. You know that you don't quite have all the qualifications the company is looking for, but you still want to go for it. Assemble a team that can help you meet your goal. This can include résumé and cover-letter proofreaders, a friend who can help you with your interview skills, and friends or acquaintances in the business who can give you the insider's scoop about the company or the industry. Also make sure that your list of references is aware that you are applying for a new job and is ready and willing to talk up your strong points.
Brag a little. Without appearing too aggressive or over-the-top in an interview, verbally discuss your successes, past accomplishments, and strengths. If you can prove that you are a go-getter who is curious and eager to excel, it will be easier for a potential employer to overlook the fact that you're still in the process of mastering Chinese.
Have a piece of humble pie. Admit that you still have more to learn and stress that part of the reason you're interested in the job is because it provides such a great opportunity for personal growth. Be likable, friendly, and honest. Prove to your potential employer that you are someone who is worthy of investing in. Vocalize your willingness to overcome your potential weaknesses by taking classes, doing more on-the-job training, or working with a mentor.
Study up and soon you'll be the fabulous new hire, not the new girl in the cubicle down the hall who doesn't know what she's doing. Which is exactly the position you want to be in to take on the world.