Anatomy of an Affair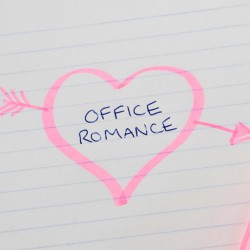 Sparks Fly
You meet someone who sparks your interest. He appreciates your ideas, you make a great professional team and he always says how smart you are and how great you look in your new suit. He may not be your usual type, but there is chemistry and he makes you feel alive.
You're Infatuated
There is a skip to your step and a buzz in your head – you have a crush, and at this point it seems fun and harmless. Your new flame is giving you the praise and conversations that you miss with your mate. In the back of your mind, you hear a faint warning bell, but this is way too much fun. You quickly hustle away the warning signs.
Welcome to Fantasy Island
You are now thinking constantly about this person. All of a sudden, you could care less if your boyfriend doesn't bother to call. You're too busy expertly contriving ways to bump into your new flame in the corridor and thinking up interesting, yet provocative questions to ask via e-mail.
Let the Games Begin
You've been "bumping into each other" for a while now. Your confidence in this interaction is growing. One of you finds a way to let the other person know there is an interest. Think of it as a game of tennis. He may hit the first volley into your court with, "I so enjoy spending time with you." If you respond with "I like spending time with you too," you may find yourself engaged in a warm-up game, volleying subtle remarks back and forth during your interactions. Watch out. The intimacy level deepens and the momentum quickens with every volley.
You Cross the Line
At some, often indiscernible point, you've started having an affair. Whether it is purely emotional or emotional and physical, you've crossed the line and you know it – actually you knew long before you crossed but now you have to face up to it.
Look in Your Own Backyard
If you are involved in a committed relationship and you find yourself attracted to a man at the office, the real issue resides in your own backyard. In all likelihood, you're discouraged, lonely and you feel taken for granted. On some level, you feel an emotional vacuum in your personal life. It has been a while since you really felt 'seen' by your partner.