Boost Your Creativity!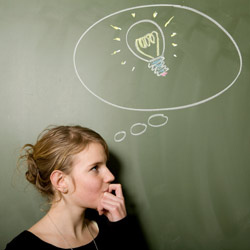 Sitting in the same office staring at the same co-workers day in and day out can lead to major apathy. How can you blast yourself and your team out of a rut to think more creatively about your work? Here are a few ways to rekindle your inspiration.
Hire a pro to help you. Many reputable firms, big and small, specialize in helping companies and individuals innovate. Depending on your budget, outside help could mean anything from a total overhaul of how your company develops product ideas to a motivational speaker who comes in for just an hour. Don't have a budget? Ask your team to read a book on innovation and spend part of your next status meeting discussing it. Suggested: Little Book of Big Innovation Ideas by Stephen Shapiro or Get Back in the Box: Innovation From the Inside Out by Douglas Rushkoff.
Harness your group's brainpower. Creating the right climate for innovation is imperative to ensure maximum creativity, according to Bettina von Stamm in her book Managing Innovation, Design and Creativity. For example, building an innovation portal or intranet site where employees from different locations can share, comment, and collaborate can help new ideas bubble to the surface. Rather than adopting an open "suggestion box" approach, brainstorming can also be better focused through posing specific questions or problems that need to be resolved.
Explore Open Innovation (OI). Open Innovation is simply the concept of accepting ideas from almost any source, either inside or outside your organization. Social media, for example, offer a huge opportunity to tap into the wisdom of the masses, and keeping abreast of advances here could help you deliver the next great product concept or identify a new way to apply your own skills. A few examples of OI in action: Organizations like NineSigma are connecting innovation seekers with problem solvers, and Starbucks asks customers for feedback directly at mystarbucksidea.com.
View obstacles as an opportunity. Ask yourself what challenges your team faces (or you face in your own career) that might serve as a catalyst to explore a new direction. For example, the current state of the economy is forcing many companies to reevaluate business as usual in order to survive. By jumping in to fill changing customer needs—such as the need for more affordable products—a number of companies like Super 8 Motels and Wrigley's got a successful start in equally tough times. Approaching the next brick wall you face with an open mind might just lead to your biggest breakthrough.