Brand Yourself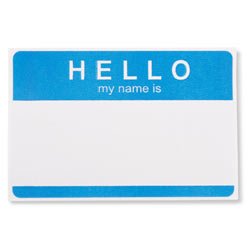 Kleenex, Band-Aid, Starbucks—the name tells you everything you need to know. Somewhere along the way, name and product became one and the same and they both scream quality and value. In brand we trust.
But brand-building isn't just the miracle tool of multinationals and their in-house marketing machines. If you've got some career ambition, it's more than worth it to develop your own personal brand and be the definition of your career for other people. And guess what? It's easier than you think with these tips.
Make a mental picture. Clamp your eyes shut and picture who you are and what qualities you want people to call to mind when your name comes up (or when a job presents itself that would fit you like a glove). Those qualities should be the cornerstones of your brand.
Become a tangible product. For those branding giants—our aforementioned Kleenex, Band-Aid, and Starbucks—the image is reinforced with logos, trademarks, commercials, catch-phrases, and customer service. Each time a customer interacts with a given product, the corporation reinforces the brand until, when you need a tissue, you think Kleenex. You, however, are not a tissue. You are a living, breathing brand, with ample opportunities to reinforce this on a daily basis. If your personal brand involves innovation, be innovative in all things: the food you eat for lunch, the gadgets you rely on, the style that swirls around you. Keep in mind that this can work against you, too: If you always do shoddy work, your desk is a mess, or your wardrobe is atrocious, those are the qualities that people will associate with you. Yikes.
Be your brand. My brand involves two words—communications diva—and I strive to epitomize these words in all my interactions. From my bold eye shadow to my to-the-point e-mails; from my leopard-print wallet to the cool head that guides me through crisis situations; from the bistros where I schedule meetings to the sassy logo on my business cards, I define what I believe a communications diva to be. And judging by the staggering number of referral calls I receive on a weekly basis, my branding efforts are working.
Commit to your message. Brand-building requires complete focus; one misstep and your brand crumbles. (It's going to take more than a couple of apologetic press releases for consumers to trust the pet-food companies embroiled in the tainted-food scandal). Ideal personal brands are realistic and super-easy to reinforce because they're second nature. If your dream brand involves fearless public speaking but you're meek as a mouse, you might want to back-burner this aspect of your brand and revisit it after a couple years of confidence-building exercises.
Unless you're Paris Hilton (who, as a celebutante—"famous for being famous"—is nothing but a brand) and have a publicity machine forever in tow to keep your brand on track, you don't need to obsess about personal branding with every interaction. Cliché as it sounds, you just need to stay true to you (and a few weeks in the slammer fits Paris' brand perfectly). How do you know when you've succeeded at building a brand? When someone you respect says, "This awesome job I just heard about is so you."