Budget Spa Treatments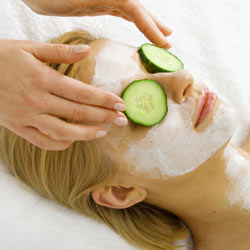 Every girl loves a trip to the spa to relax after a long week, but not every budget has room for that luxury. While a massage and a manicure are fabulous ways to unwind, at many spas services can be quite expensive. With a little creativity and a few minutes of research, you can get spa-quality treatments for at-home prices.
Find local deals. Log on to an online resource like spafinder.com and search for special rates in your area. Several times a year, spas offer promotional discounts to market their services. Keep an eye out for these deals by signing up for newsletters and e-mail updates. Another option is to dust off your phone book and flip to the spas section. Smaller local day spas often don't have an updated website. Call a few places and ask when they're having their next sale or promotion.
Look for student discounts. Massage and beauty schools train up-and-coming therapists and aestheticians. Part of the training includes hands-on practice. Beginning students will sometimes give free massages or manicures, though it can be nerve-racking to be at the mercy of a brand-new therapist. Instead, sign up for services provided by advanced students. While these services do have a cost associated, the discount is steep and you can feel more confident in the student's abilities. For added savings, take advantage of student rates for services beyond massages, including hair cut and color, facials, and reflexology.
Discover package rates. If you're planning a business trip or vacation, check out the spas in hotels. Often, guests are eligible for a package rate along with room reservations. Another fun option is to organize a group of friends to do a daylong package. Spas offer the same services at a group discount, and with group packages, additional goodies like a light lunch or product samples are usually included. Just be sure you set it up: The organizer usually gets a steeper discount for doing the planning.
Get creative. Retailers host in-store events that sometimes include a chair massage or hand massage. Some yoga and Pilates studios include deep-tissue massages as a perk to purchasing class packages. The same goes for gym memberships and personal-training packages. Keep your eyes peeled and use a little creativity, and you may never again have to pay full price for spa services.