How to Build a Garden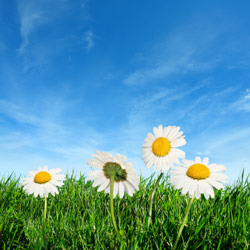 Two years ago, you didn't even know what microgreens were. Now you want to grow them alongside snap peas and squash in your garden. The issue? Your so-called backyard is a plot of land the size of a postage stamp, more useful for housing a garbage can and recycling bin than for harboring a till-the-earth kind of project.
But gardens can flourish in tiny, urban backyards. Companies like Your Backyard Farmer in Portland, Ore., have proved that modern-day homeowners can enjoy farm-fresh produce every night at the dinner table, without acres of land. It doesn't take a ton of effort from you, and coming home to your new garden (and the fresh, healthy produce you grew in it) is the ultimate reward after a long day's work. Here, a few tips to get started.
Consult an expert. Today, you can glean a gardening education from the staff at your local nursery, from classes at community centers, or from your next-door neighbor. Ask these experts what crops will grow well in your area, and when they recommend you start planting.
Start small. You might begin with simple window planters filled with herbs or with a small, boxed bed in the corner of your yard. If space isn't an issue, you can then expand your plantings—but only after you get a hang of the planting and harvest schedule.
Harvest healthy soil. Healthy soil grows healthy plants. Add only good organic materials and nutrients to the soil in your yard or garden beds. Make sure you minimize tillage, keep the soil surface covered with plants, and rotate the crops you plant to keep your soil healthy and productive.
Get good germination. Sure germination is a big, scary, garden-nerd word. But getting good germination (which really means emerging seedlings) is easy to accomplish. Just make sure to use fresh seeds and keep your vegetable beds evenly moist with regular watering. Then make sure you plant your vegetables and fruits when soil temperatures are optimal for that specific plant.
Keep your beds weed-free. Contrary to popular opinion, keeping your vegetable beds weed-free isn't difficult—if you stay on top of the work. Pull weeds when they emerge and are still small to keep them under control (and to prevent weeds from seeding). You can also spread garden mulch 2–3 inches around your plants and soil surface to reduce weeds. Then sit back, relax, and watch your garden grow!