How to Build a Strong Team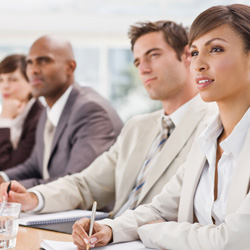 The tightest teams aren't born built. Dealing with dissent, giving everyone a fair shot, and ironing out personality clashes are daily fare for the boss. Here, tips on how to put together a terrific team from U.K. consulting company You Need This.
Communicate EVERYTHING—even if there's nothing to tell. Regular updates, bad news, even an honest "I don't know" are all beneficial. The team that can rely on straight answers is more relaxed, less gossipy, and quicker to comply. The one thing you NEVER share? Your gripes. Bulletproof teams shouldn't ever be asked to sympathize with their superiors' shit; their problems are your problems—NEVER the other way around.
Deal with rogue team members ruthlessly (but within HR boundaries, natch). Problem children are a magnet for everyone's discontent, so deal with them quickly…and with a firmer hand than is probably required. It maintains an "I'm fair but don't screw with me" persona. Don't give them responsibility or send them on a course to settle them down; spend your money on the real team players to strengthen morale and show you reward only loyalty.
Know what gets them going. Never assume that what drives you or your team is the same across the board. Take the trouble to discover what specifically motivates each individual so you can push the right buttons on the right people at the right time. But ensure everyone has a hard copy of the TEAM agenda—if there are ever any clashes, you can refer everyone back to it to reunify.
If you can't be fair, be honest. If someone has more experience, they get big tasks. But be sure to explain why. "I am giving this job to Lynn because she has 10 years experience. Terri gets this because she's still learning. Sam gets this because she proved herself on the last project." Explaining why you do what you do replaces any rumblings about favoritism with an urge to win your trust and more responsibility.
Be consistent. A team will always feel stable and know where they stand if your mood is a constant. There's nothing more upsetting than a leader whose temperament changes like the weather. If you're a bitch of a boss, at least do everyone a favor by being a bitch all of the time.