How to Build Your Own Website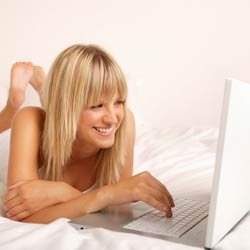 Staying ahead in today's economy means putting your best digital footprint forward. Whether you're marketing your own small business or looking for an incoming stream of projects as a freelancer, it's helpful to build a savvy website that showcases your talent and value. Launch your own website, and you'll be one step closer to sharing your message across the webosphere and drawing an attentive audience. Here's how to get started.
Name your domain. Start off by purchasing a domain name (the URL) for your site. Create a name that's short, catchy, and not too complicated, so that visitors can quickly recall it. Then check out sites like GoDaddy.com or 1and1.com, which sell domains for less than $10 a year.
Choose a hosting site. Today, many hosting providers offer packages to users that require little to no technology expertise at all. Not fluent in HTML, CSS, or Java? No problem. Check out WordPress, Wix, Weebly, or Web.com to find a package that best suits your needs; costs range from $4 to $20 per month. Also consider a hosting provider that provides e-mail addresses to match your domain, which will add a degree of professionalism and keep you more organized.
Add your own flair. Most hosting packages include easy-to-use website builder programs that allow users to edit layout, color scheme, and images on various pages with a simple click of the "Design" tab. (Prior to the design process, you'll be prompted to enter the domain name you recently purchased.) Just be sure to keep your design simple and stay mindful of your target audience. You wouldn't decorate your office cubicle the same way you'd adorn your bedroom, so only use your obsession with the color pink or your affinity for photos of cute puppies on your site if they indeed apply.
Sprinkle a generous serving of SEO. Search engine optimization, or SEO, is all the rage these days. That's because it's no secret that Google search-engine rankings can make or break a site's number of unique visitors—and, ultimately, its success. Decide what words your target audience would use when searching for content on your site, and then incorporate these keywords in headlines, captions, text, and tags on your site. Using a tool like Google Analytics will help you monitor your visitors and, in turn, can guide you to make necessary SEO adjustments over time.
Test-drive your site. Have your friends and colleagues try out your site-in-progress and provide their honest feedback. Have them consider factors like aesthetics, effectiveness, navigability, and how influential your site is. Pay close consideration when multiple people provide the same feedback; chances are more visitors will share their opinions.
Spread the word. Once your site is live, start advertising. Send e-blasts to your network of contacts. Submit the site to major search engines. Plug your site on Facebook, Twitter, and LinkedIn and post it on your AIM or Gchat away message. You can also leave comments on related blogs and forums and include your URL in the signature. Of course, once you've garnered a fan base, continue to explore new and compelling ways to update your site to keep them coming back for more.