What to Buy For Your Work Spouse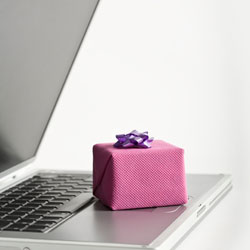 You would think giving your work spouse a holiday gift would be a no-brainer. After all, you two know each other really well. You spend 10-hour day after 10-hour day in the office together. Besides, he needs a scarf. What's wrong with getting him a nice scarf?
Well, if his real spouse is giving him one, plenty.
Make no mistake, holiday-gifting your work spouse is complicated. Without realizing it, you can overstep boundaries you never realized were there. But with some helpful pointers, you can successfully spread some holiday cheer without shaking up life at home or at the office.
Set limits. Choose a date to exchange gifts, and decide on a price range. Also, don't flaunt the gifts around the office. If you're already seen as cliquish to your co-workers, or suspected of having an affair, you'll only be fueling the fire.
Be personal, but not too personal. You know your work spouse well. And throughout the year he has probably told you about a cool DVD he wants. Or that he's taken up cooking. Or that he'd like a new French press. Jot down a few notes from time to time, and by December, you'll have a whole list of ideas. But keep it within the "friend" range. Gifts that are too personal, like underwear, jewelry, perfume, or cologne—not to mention an 8×10 glossy of the two of you—send the wrong signal.
Don't be generic. This is a no-brainer. Your work spouse covers your butt at work. He often brings you coffee (just the way you like it) and hands you tissues when you sneeze. He knows you better than your own mother at times, so skip holiday-themed sweaters and fruit baskets. Get him a gift that was picked out for him and only him. He'll be grateful, and that coffee may come with a doughnut next time.
Factor in the real spouse or significant other. It can't be stated enough. Whether your work spouse is in a relationship with a significant other or is married with children, choosing a gift for his whole family shows that you respect your work spouse's life outside of work. Give the gift of babysitting (always a big hit). Or get them a gift certificate to a hot new restaurant so he and his significant other can have a night out, on you. After all, how many times have you and your work spouse had to call your real spouses to break plans because you had to work late? The holidays are a great time for a little payback.