Career Change: Asking Your Parents For Help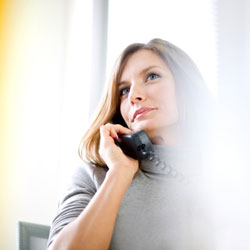 Spring has sprung, the skies are blue and the flowers they are a bloomin'. For many ambitious women the leap into Spring means just one thing—time to do something new. I'm not talking about finally starting your 2007 exercise routine or revamping your closet. I'm talking change, baby! A new job, venture or project—the personal decision to really go out on a limb.
For Lisa, the timing was right for a new adventure. The holidays and the gray months of winter were nearly done. She was sick of her job and ready to focus on her dream of being a photographer. Wedding season was heating up and Lisa was ready to capture the full range of marital emotions with her brand new digital camera.
There was just one problem. Although Lisa had lots of experience (an art major in college and lots of side jobs taking photos at weddings) she didn't have savings or the independent business experience. This was going to be a big risk. And when she asked her parents for their blessing (and any financial help they might offer) they were less than generous. In fact they flipped out, lecturing her about financial risk.
It's a challenging situation getting your parents to love your job as much as they love you. Here some techniques to get even the most skeptical parents to jump on board:
Choose your words carefully. For Lisa this meant reminding her parents that weddings were big business and booking just three jobs a month could provide some serious income. Also, leverage experiences you know they've had such as the HR professional in their office that left and successfully started her own bakery. Equating your venture with something they can relate to—especially if it is a successful example—will help them better see your vision.
Take a breather. Often when we deal with our parents we revert back to old parent/child dynamics. Dad puts his foot down, daughter cries. Don't do this. Once they relate to your point of view they are more likely to understand your choices. If all they see is your stress, you risk seeming like the child they may still think you are.
Employ the "Don't Ask, Don't Tell" strategy. Don't think of your parents as your board of directors! They don't need to know if you're having problems with contacts or if you aren't getting paid. Only tell them what they absolutely need to know. You don't want them getting concerned and calling six times a day, do you?
Sing your own praises. So you keep the bad under wraps, but share, share, share the good. They will beam with your accomplishments and love basking in your success. However, do avoid making every call and email about work. Remember that more important than their monetary investment is the bond you share as family.
Put them to work. Have you noticed that parents can talk about their children endlessly? Use this! Parents are a great PR and networking tool. In the first six months of Lisa's business, all her best jobs came from people her parents knew. Without them she might not have been as successful. Just don't forget to thank your folks for the referrals—it will help them feel more invested in you and your new business.