Cheap, Chic Travel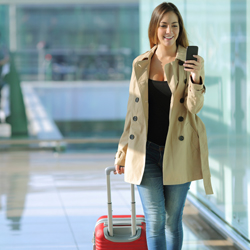 If you're anything like me, you find travel to be as fundamental to life as oxygen. Regular doses can replenish spent energy, expand your mind, and help keep your problems in perspective. Or as St. Augustine put it, "The world is a book and those who do not travel read only one page."
But appreciating travel and ponying up the cash to do it are two different things, especially if you prefer to go in style. If your budget has been keeping you trapped in your cubicle lately, it's time to get creative about breaking out. Here are some ways to afford world-class adventure no matter what your pay grade.
Do your research. Deals on hotels, flights, and package trips abound online if you can sort through the junk to find them. Get to know travel search engines like Kayak.com, bidding sites like LuxuryLink.com, and travel communities like TripAdvisor.com. Subscribing to budget travel newsletters and RSS feeds can also help you identify and snag good deals. Bonus: You'll enjoy armchair travel for free.
Plan last-minute or off-peak. Example: My favorite off-season getaway is the cozy Stageneck Inn on the chilly coast of Maine mid-week, mid-winter. For the average price of a romantic meal alone, my man and I get a room with an ocean view, a four-course dinner, and a sumptuous breakfast. With the money we save, we can select from the inn's "Beat the Winter Blues" spa treatments. If you prefer your locations peak-season, try LastMinute.com for deals of all kinds.
Venture off the beaten path. Smaller cities and countries with less tourist cachet can be great places to find bargains. Consider Guatemala rather than Mexico, or Bordeaux rather than Paris. Your passport stamps and travel stories will stand out from the pack.
Stay in homes instead of hotels. Renting a house or villa can be just as luxurious and much more cost-effective than staying in a hotel, particularly if you go in with friends or use the kitchen to prepare your own meals. Home swaps are another alternative worth checking out, and HomeExchange.com is a good place to start. Finally, hospitality clubs connect members with others willing to host travelers in their homes for free. Try Airbnb.com, HospitalityClub.org or CouchSurfing.com. You'll make friends around the world and live like a local.
Embrace the unusual. Monasteries and convents offer cheap accommodations in Italy, and colleges sometimes rent out rooms in Britain. For the latter option, I tried VenueMasters.com and discovered that my own alma mater, the University of Stirling in Scotland, offers this service. Any shortcomings about staying in a dorm will be forgotten the moment you step onto the most beautiful campus in Scotland for a day that can start with trekking to medieval castles and end with crawling pubs filled with guys with cute accents.
Find cheap ways to soak up luxury. On St. John in the Virgin Islands, Brangelina and clan have been known to stay at the understated but exclusive Caneel Bay resort. You could cough up the $1,000 or so a night to sleep there. Alternatively, try reserving a beachfront cottage in the nearby and stunning national forest Cinnamon Bay. Then drop by Caneel Bay in the morning for an open-air buffet breakfast and a stroll around the grounds at a tiny fraction of the cost.
Volunteer. Volunteer vacations can offer opportunities to connect with the reality of a foreign country much more deeply and affordably than you can through sightseeing. And if you treat yourself to a day or two of fine dining or luxury spa time at the end of your trip, you'll have more than earned it! For ideas, check out Voluntourism.org.
Happy traveling!