Conference Call Code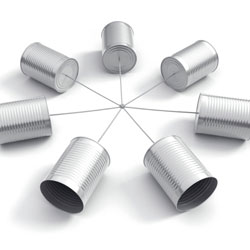 Love 'em or hate 'em, conference calls are a fact of life in the working world. I used to think of them as a great excuse to play Solitaire or BrickBreaker with my phone on speaker, but I eventually realized that conference calls offer a great opportunity to stand out in the office. Since many people are mute, muffled, or miffed on group calls, you can focus on being memorable instead. Here are some etiquette pointers and strategic power plays.
Do your prep work. If it's an important call, don't wing it. Spread relevant notes in front of you on your desk, or jot down a few important points you want to be sure to mention during the call. No one can see what's in front of you, so use every cheat sheet you need to sound prepared and impressive.
Join the call early. By being among the first to call in, you may win a few extra moments with an important or potential client or a higher-up in your organization. This is a great way to show that you are diligent, punctual, and personable. Ask how the other person is doing, chat about the upcoming call, or just shoot the breeze—it's all about face time, or in this case, ear time.
Put your phone on mute (but remember to take it off mute when you want to talk!). Don't be "that" person, with sirens, a barking dog, pinging e-mails, or the tap-tap-tap of your keyboard clearly audible in the background. Put your phone on mute to block any distractions, then "un-mute" when you are ready to make a point. This extra moment it takes to un-mute will also give you the split second you need to make sure you are about to say something appropriate and worthwhile. Many angry outbursts have been avoided thanks to Mr. Mute Button.
Identify yourself before you speak. When you first chime in during the call, take the opportunity to say your name and title before your comments—especially on a call with people who don't know you. This reinforces who you are and makes sure someone else doesn't get credit for your brilliant remarks.
Always say something. If you are asked to be part of a conference call, be sure you make a contribution. Even if you are participating in the most boring, waste-of-time discussion (and they do happen, as we all know), find some way to supply a suggestion, comment, or helpful thought. Remember that every interaction you have with colleagues and clients, even over the phone, helps to build your professional brand.