Create Your Opportunity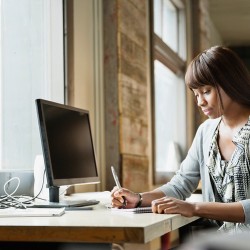 A friend introduced me to a friend, who introduced me to an agent, who introduced me to a publicist, who introduced me to an editor at a major magazine, who introduced me to a financial analyst, who introduced me to Michael Loeb – who wrote me my first million dollar check.  I've learned so many things about being an entrepreneur from Mr. Loeb, not the least of which is how to network, how to pitch and how to secure funding.
Recently, the Center for an Urban Future, with support from Capital One's Future Edge initiative, released a new report that explores the impact of women-led companies on economies across the country, as well as the potential areas for growth that still remain.
The report, which takes a close look at the funding landscape, found:
"In fiscal year 2014, women business owners received just 20 percent of all SBA loans in the New York metro area and 12 percent of the dollars lent."
"While 16.9 percent of New York City companies receiving VC funds in the third quarter of 2015 had a female founder, those firms accounted for just 8.7 percent of the total VC funds received that quarter—$122 million out of $1.41 billion,"
To me, these findings illustrate the overall need for women business owners to also leverage nontraditional forms of lending. Here are some immediate and effective steps women business owners can take to help their businesses grow.
Here's my advice:
Play Nice. You never know who is going to be central to building your network and business. Personally, I never would have guessed that one of my first friends would be the key to building a successful business in New York City. This shows that you can't write anyone off. While I'm all about jumping to the front of the line, the reality of networking is that one person leads to the next and there is often a chain of command that needs to be respected in order to build significant relationships. Don't just be open-minded – be generous to everyone you come into contact with.
Give to Get/Grease the Wheel. While it was obvious what Michael could give to me, it wasn't immediately obvious what I was going to be able to give to him – until I met his daughter Katie. At the time, Katie was a year away from college graduation and still unsure of what she would do with her degree. A couple of weeks after meeting Katie, I received a call from Michael's assistant, asking for my career-building business plan. He thought it would provide guidance and focus for Katie as she neared graduation. I shared it without hesitation and with an open offer to walk Katie through it. Point being, it's important in business to legitimately want to help, and in my experience, a positive and genuine intent makes for a more successful outcome. While networking is often thought of as an opportunity to help yourself, the key to your success resides in helping others – if it's not obvious, don't hesitate to ask.
What Comes Around Goes Around. Speaking of what you can give to the people within your database, the game of networking ultimately comes down to having a roster of valuable contacts to offer up for introductions. There are a couple of key pieces here. First and foremost, the introductions and contacts have to be legitimate – whether your contacts are leaders in their industry or have impressive networks – these contacts should be available for networking and should add value and relevance to the person you're looking to connect. You only have so many attempts before you're known as someone whose introductions are duds. Secondly, you can ask for introductions, but make sure you've earned them. As I stated above, the last thing you want to do is put a stranger in front of your most valuable contacts. Be willing to take relationships slow and make it clear that you're somebody who is going to make the go-between shine.
Think Out of the Box. While the report illustrates that funding and capital continue to be challenges for women entrepreneurs, the good news is that there are nontraditional forms of lending available. Take Kiva.org for example – they're a microlending organization that uses a crowdfunding model to help entrepreneurs start or grow their businesses. And then there's Golden Seeds – a firm that solely focuses on providing early-stage venture capital to women-led firms. It's important for women entrepreneurs to keep these less traditional resources and organizations in mind when facing roadblocks on their journey to raise capital. All of this considered, it's also important to not overlook the seemingly smaller investors, as they tend to draw the most attention to your business. Why? Most likely because they invested in an idea that they see true potential in – a business that has touched their lives or a business they believe will make the world a better place.
What the Center for an Urban Future and Capital One Future Edge report illustrates, is that women-owned business have made great strides; however, there are still areas for improvement – especially regarding funding. And with these networking and fundraising tips, we can hopefully start to lessen that gap.
Thank you Capital One for sponsoring this post. This study was made possible through Capital One's Future Edge initiative, a $150 million, five-year effort to help more American workers and entrepreneurs succeed in the 21st century economy. Through Future Edge, Capital One works with hundreds of leading community and nonprofit organizations in NYC and beyond, including microfinance and micro-lending organizations empowering women entrepreneurs such as Grameen America, Accion, and the Business Outreach Center Network. Learn more atwww.capitalone.com/investingforgood_or join the conversation on Twitter at @YourFutureEdge.