Day-to-Night Makeup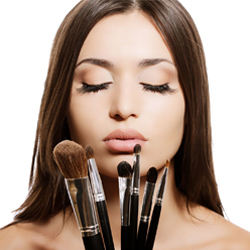 The makeup you wear is generally governed by two things: the nature of your job, and lighting. For example, electric blue eyeliner may be commonplace at a graphic design studio but completely inappropriate at the Annual Bar Association luncheon. Similarly, a glittery eye that looks tasteful and elegant in a dimly lit lounge runs the risk of being outright garish in the light of day. Luckily, you don't have to start from scratch makeup-wise—even if you're dashing straight from the office to a cocktail party—to achieve major nighttime drama. Simply build upon your daytime look with one of the following three tips.
Lash out. False eyelashes can instantly glamorize even the most understated, neutral face. But application is everything. If you want them to look at all believable, choose lashes that are slightly fuller and longer than your own. False eyelashes that come in strips should first be trimmed to match the length of your natural lash line. Or you can add individual lashes just to the outside corners of your eyes for a more subtle, gamine look. Regardless, always apply them as close to your natural lash line as possible after priming lashes with a coat of mascara (the texture helps them adhere).
Go smoky. If the past few seasons are any indication, the smoky eye is here to stay. Good news for anyone wanting to look infinitely more alluring—but in a sophisticated-meets-sultry way. Pair shades of the season's hottest hues, purple or gray, with smudgy black eyeliner to create a modern version of this always-sexy staple.
Rely on red. The beauty of red lipstick is that anyone can wear it—and everyone looks about a million times more chic in the right shade. In general, blue-based reds work best on fair, pink-based skin tones. Warmer, tomatoey reds are fantastic against darker skin, while berry reds pop against an olive-colored complexion. Just keep makeup on the rest of the face to a minimum to avoid looking overdone.