Depart With Dignity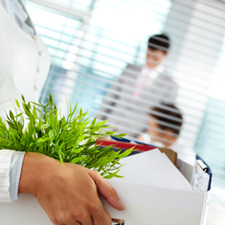 I'm not good at ending things. I usually dissolve into tears after I break up with a boyfriend, so you can imagine the feelings of dread and guilt I got when I had to tell my first boss I was moving on. As I prepared to leave the job, I had a litany of excuses and explanations ready: "you've been great, but this isn't right for me right now;" "you deserve a better assistant;" and, of course, the classic, "it's not you, it's me."My boss just smiled and wished me luck, never asking when or why I decided to leave. Turns out he knew I wasn't being challenged anymore and secretly hoped I'd find something better. Now that I've had more experience with breaking up or telling a boss I'm hitting the road, here's what I've learned…
Don't Wait Until You're on the Verge of a Meltdown
You'll be less appealing to potential bosses (and boyfriends, for that matter) if you can't keep yourself together. Plus, you'll drive everyone around you crazy. Leave when you realize you need a change but you're still on good terms with your coworkers. You may want to use them as a reference someday.
Check Out the Company Policy
Do they require a formal resignation letter? Two weeks notice? An exit interview? Whatever it is, make sure you comply so you aren't remembered as the girl who mysteriously skipped town one day after a stressful presentation.
Keep It Short
Don't rehash the past or get into petty personality issues or politics. All you need to say is "I have decided to pursue other opportunities." Your ex-boyfriend doesn't want to hear about how your feelings have changed and you can't see a future together but you still want to be friends. Your boss doesn't need that speech either.
Maintain a Sense of Humor
Your coworkers may give you a hard time (a former boss of mine gave me a cactus on my last day and I never quite figured out if he wanted me to have a plant for my new office or if he was commenting on my people skills). They may want to confide in you about their own job frustrations. Take it as a compliment that they're sorry to see you go or that they feel comfortable talking about their bitchy boss. Don't feel that you have to solve these issues on your way out. That's for HR to deal with.
Stick to Your Guns
If your ex offered you a few more days of vacation and a tote bag with his name on it, would you take him back? I don't think so! When your gut tells you it's time to move on, then it's time to move on. End of story.