Detox Diet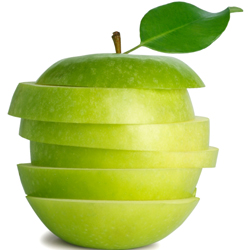 The New Year often arrives with a serious need for some restraint. We're ready to forgo fat, martinis, chocolate, and the entire cheese plate. While you might not be able to make it to one of those ritzy spas in Arizona to flush yourself out, you can still eat simply and healthfully. These simple dishes are chock-full of lovely veggies and Asian flavors, making for a stunningly modern entry into a fresh new year.
Miso Glazed Salmon
1/2 cup white miso*
1/3 cup mirin
1/4 cup sake or dry white wine
2 tablespoons soy sauce
3 tablespoons brown sugar
4 salmon fillets (about 1.5 pounds total)
3 heads baby bok choy, cut lengthwise
1. In a shallow glass dish, stir together miso, mirin, sake, brown sugar, and soy sauce. Add salmon to marinade and stir to coat. Marinate for at least 10 minutes or up to two days in the fridge.
2. Preheat broiler. Place fillets on baking pan and toss bok choy with the excess marinade. Arrange bok choy around the salmon. Place under the broiler and broil until fillets and bok choy are caramelized and lightly charred around the edges, about 3 to 4 minutes. Carefully flip the fillets and bok choy, brushing with marinade, and broil for 3–4 minutes more (salmon should be lightly charred and the bok choy cooked to crisp-tender). Serves 4.
Lemon Chicken and Asparagus Stir-Fry
4 skinless, boneless chicken breast halves, cut into thin strips
Salt and pepper
2 tablespoons canola oil
3/4 cup chopped green onions
2 tablespoons minced ginger
1 tablespoon lemon juice plus 2 teaspoons grated lemon zest
3 cloves garlic, minced
1/2 pound asparagus, trimmed (feel free to substitute other seasonal greens)
3/4 cup chicken broth
2 tablespoons Asian fish sauce
Steamed white rice for serving
1. Season the chicken with salt and pepper. In a frying pan over high heat, warm the oil. Add the chicken and stir-fry until golden on the outside and opaque throughout, about 2 to 3 minutes. Transfer chicken to a plate. Add the green onions to the pan and stir-fry for 1–2 minutes. Add ginger, lemon, zest, and garlic and stir-fry for 30 seconds. Add the asparagus and stir-fry until tender-crisp, 2–3 minutes.
2. Add the broth and fish sauce to the pan and bring to a simmer. Return the chicken and any juices from the plate to the pan, reduce the heat to medium low, and simmer for a minute or until warmed.
3. Spoon rice onto plates, top with chicken and asparagus. Serves 4.
Mushroom, Miso, and Barley Soup
1 cup assorted fresh mushrooms
1 tablespoon olive oil
2 cups thinly sliced leeks
1 teaspoon minced garlic
1/2 teaspoon dried marjoram
1/2 cup dry white wine
6 cups vegetable broth
3 large carrots trimmed and peeled and cut into slices
1/2 cup pearl barley, rinsed
1/2 cup hot water
4 tablespoons sweet white miso paste
Salt to taste
Flat leaf parsley for garnish
1. Wash and clean mushrooms, de-stem and slice. In a large saucepan, heat the oil over high heat. Sauté the leeks and garlic for a minute; add thyme and wine and continue cooking over high heat until about half of the wine is evaporated.
2. Add vegetable stock, mushrooms, carrots, and barley and bring to a boil. Reduce heat to low, cover, and cook at a gentle boil until the barley is tender, about 30–40 minutes.
3. Pour the hot water into a large glass and dissolve the miso paste by stirring rapidly and mashing if necessary. Turn off the heat and pour the miso into the soup. Add salt if needed. Serve hot and garnish with parsley. Serves 4 to 6.
Citrus-Sherry Vinegar Dressing
3 tablespoons orange, grapefruit, lemon, or tangerine juice (preferably just squeezed!)
1 tablespoon sherry vinegar
1 teaspoon Dijon mustard
Salt and pepper to taste
1/2 cup olive oil
1. Whisk all ingredients together. Toss with romaine lettuce, radicchio, arugula, endives, cucumbers, beets, or thinly sliced pear. Serve immediately.
Look at an Asian market or other specialty grocery like Trader Joe's or Whole Foods for Asian cooking basics like mirin, miso, or sake.