Disconnected From the World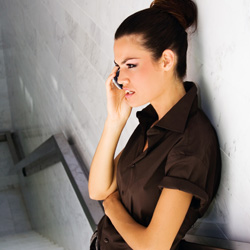 My first cell-phone-free weekend was caused by a little spill—24 ounces of water leaked into my favorite black leather bag, and my cell phone sunk to the bottom and never recovered. Luckily I had insurance, but the accident happened on a Thursday and it took two business days for the company to ship me a new one. I was totally unplugged for more than 48 hours! Here's what I learned and how I coped.
Stay calm. It is a very, very strange and almost frightening feeling to be unable to reach out and touch someone via phone or text. Don't get too anxious! You will survive, and you might even learn something about yourself in the process. Silence is both freakish and golden.
Know your numbers—or at least back them up. Gone are the days when you're forced to memorize phone numbers. Now you just store them in your phone. Convenient, but dangerous if you lose your phone—I was faced with a gas leak in my apartment and no record of my landlord's phone number. Not a fun moment. Keep a backup list of numbers on your computer or hard drive or go old-school and write them down in an address book.
Don't recycle the Yellow Pages! 411 and phones with Internet hookups have made the old-fashioned phone book all but obsolete. Until you're in a bind. Having access to a wide range of local numbers is super-important, especially in case of a true emergency. You never know when you'll really need to look up the number for AAA, the local pizza joint, or your doctor's office.
Enjoy being unreachable. To be honest, the real problem with my cell-phone-free weekend was figuring out what to do with myself. I like being alone, but I'd never really realized just how often I reached out from my solitude to call my mom or best friends. It felt very strange and isolating to be so unplugged. To cope, I pulled out the project list, attacking all those errands and chores I'd been putting off. Being productive made the hours pass more quickly and made me less aware of the serious silence penetrating my apartment.
By Sunday night I felt vulnerable and starved for human attention. I was a little surprised; I didn't think being unplugged would bother me so much! My cell-phone-free weekend made me thankful for all the people in my life. But it also made me want to focus more on me. Ideally, I'd like to become comfortable enough in my own skin that 48 hours of alone time doesn't push me to the brink of hysteria. But it gets easier the second time around. One day into my second cell-phone-free weekend (this time I drove away with my cell phone on the hood of the car) I found myself enjoying it! Turns out a lazy Saturday morning and an afternoon of shopping without any annoying rings can be pretty perfect.