Don't Be a Summer Slacker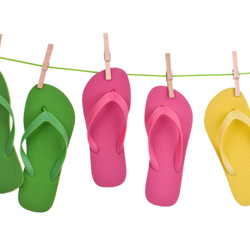 Summertime, and the living is easy. So why is it 5 p.m. on the Friday and you're slogging away in front of the computer? Rather than sulking as you sit alone in your office, view those hot summer work weeks as windows of opportunity. Big opportunity.
Here's why: Summer is one of the only times of the year (aside from the holiday season) when everyone has numerous obligations. Weddings are standard, as are family vacations, reunions, barbecues, camping trips, concerts, and festivals. Odds are that more than one person at work wants time off, usually to the boss' chagrin (they're trying to leave town too!). Someone's got to get the work done and the deadlines met. And that person is you.
While you don't want to seem like you have absolutely no life, mention to your boss that you don't have any big vacations planned this summer and you're willing to take on more responsibility. Then, keep these tips in mind. Come fall, you'll practically be running the place!
Say no to "summer Fridays." After working you like dogs all winter, some companies shorten their work week during the summer months and give their employees Fridays off. There are roughly 15 Fridays between Memorial Day and Labor Day. You don't need to take advantage of each and every one of them. In fact, while your co-workers are at the beach sleeping off Thursday night's hangover, you can be getting A LOT accomplished in your very quiet office. Use that time to work on projects or pitches that you don't have time to tackle during the week, when the phone's ringing off the hook and you've got back-to-back meetings.
Get a clue about your colleagues. If you know a co-worker is so busy planning her grandparents' 50th anniversary party that she isn't keeping up with her daily tasks, offer to take some of them off her plate. Listen and take careful notes in meetings about deadlines, projects, and clients so that you can be informed and ready to become involved at a moment's notice. Or if your job requires you to work weekends, early mornings, or late evenings, and you have no plans, offer to jump in. Your co-workers will breathe a huge sigh of relief and your boss will notice your level of commitment.
Act like it's not even that nice out. Have you ever noticed that once summer hits, the office becomes a ghost town at 6 p.m.? Or that the lunch "hour" somehow stretches to two when it's warm enough to eat outdoors? This lazy summertime attitude doesn't contribute much to workplace morale or productivity. Because of this, you'll shine especially bright if you continue to show up on time, work hard, and smile just like it was an average week in October. (And when the temperature's creeping into the triple digits, the air-conditioned office is a great place to beat the heat.) This is also an excellent time to cozy on up to the boss: Show your initiative, make some killer proposals, and finish up that project a week or two before it's due.
Move over, martyr. A word of caution: Don't become the cubicle bitch, and I don't mean "bitch" in that aggressive, nasty sense. I mean absolutely do not become the person who picks up everyone's slack and never asks for or takes credit for it. You don't have to play the co-worker slash-and-burn game, but if you're working harder and more than everyone else this summer, you deserve every byline, accolade, and (hopefully) raise that comes your direction. By the same token, if you have made the decision to work hard this summer, don't complain and don't make others feel guilty. Doing so takes away from all of your effort—people won't remember what you did, they'll remember that you made them pay.