How to Dress Your Man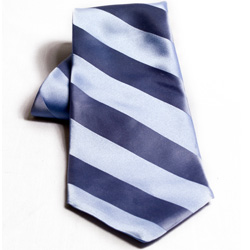 There are certain work functions—the black-tie charity event or dinner at the boss' abode—when your significant other's typical baseball cap and sweatshirt combo just isn't going to cut it. And though you don't want to poo-poo his personal style, he is a reflection of you—and your professional image.
Next time he asks about an event's dress code, use these suggestions to help him come out of the closet—clothed in something appropriate for the evening.
The Black Tie Ball
When an invitation states black tie, there's no wiggle room; make sure your significant other shows up in a tux. If he'd like to avoid looking like every other guy in attendance, suggest he lend his suit or tux personality with fashionable cuff links or a statement-making bow tie. And though sneakers have shown up on tux-wearing gents in the pages of GQ, a charity event isn't the place to test twists on a classic ensemble. Ask that he stick with polished, round-toe shoes.
A Party Hosted by the Head Honcho
Well before the party date arrives, ask your boss if the event will be a formal or casual affair to give your guy time to prepare. For the former, dark denim and a blazer are appropriate foundation pieces for an ensemble. For a casual barbecue or a cocktail hour, steer your man toward a fitted tee (preferably one lacking questionable graphics or text), crisp khaki shorts, and a canvas slip-on loafer.
The Client Dinner
When a client invites your significant other to your next meeting, let the location guide your wardrobe suggestions. For a night out at a trendy lounge, clean— not tattered—jeans and a soft V-neck sweater make a nice impression. For dinner at a formal steakhouse, slacks topped with a bright button-up or pin-striped dress shirt are classic without being boring.
The Weekend Brunch
When you're joining co-workers for brunch, encourage him to shed the weekend sweats and dress like an adult. If you're headed to a country-casual café for pancakes and scrambled eggs, a pair of jeans, a tee, and a sheepskin-lined coat are ideal choices. For a more formal or special-occasion brunch, there's no harm in playing it safe with a white oxford and a narrow tie (or not) paired with dress pants and shoes.