Do You Dress Well For Work?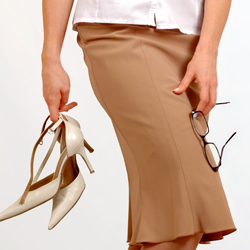 There's a reason why so many of the fashion victims on TLC's What Not to Wear are referred to the show by their co-workers: Appearances have a huge impact on your professional image. Take this quiz to see what your look says about you.
1. You're giving a big presentation to a prospective client. What do you wear?
a. A striped button-down and khakis
b. A tweed jacket with matching skirt
c. A classic black power suit with blue button-down underneath
d. A fitted blouse with a body-hugging pencil skirt and stilettos
2. Which of these TV characters most resembles your office style?
a. Joey Potter on Dawson's Creek
b. Charlotte on Sex and the City
c. All the female candidates who were kicked off The Apprentice, seasons 1 through 6
d. Addison Shepherd on Private Practice
3.Where do you get most of your clothes?
a. Freebies from college sports teams and credit-card giveaways
b. Lily Pulitzer
c. Banana Republic
d. Forever 21
4. What's your look for casual Fridays?
a. Why limit yourself to just Fridays? You wear jeans or khakis most days.
b. A denim skirt with kitten heels and a powder blue sweater
c. Black pants and a cashmere V-neck sweater
d. A wrap dress with a plunging neckline and suede knee boots
5. Time for your company's holiday party. What do you pull out of your closet for the occasion?
a. A clean pair of jeans with a red and green polo shirt. It's a small attempt at festiveness.
b. An A-line skirt with a carefully coordinated cardigan and vintage brooch
c. The standard little black dress and pearls
d. A silk minidress to show off your killer legs
6. What do you carry to work most days?
a. A backpack with your lunch and gym clothes for a post-work workout session
b. A Vera Bradley tote with matching makeup case
c. A black laptop case
d. A Birkin bag, natch
7. Do you wear jewelry to work?
a. Nope. You don't wear jewelry ever.
b. Of course. You still wear the gold necklace and matching earrings that Daddy gave you for graduation.
c. Diamond studs and a plain watch. Nothing too crazy.
d. Chandelier earrings and loads of bangle bracelets. You love to accessorize!
8. What's your footwear of choice?
a. Flip-flops or, if it's cold, Skechers
b. Ballet flats
c. Basic black pumps
d. Thigh-high boots
9. What's your makeup routine?
a. ChapStick and moisturizer
b. Pink lip gloss and mascara.
c. Subtle, subdued makeup to define your features
d. Full-on face, including sultry eyes and red lips
10. How do you wear your hair to the office?
a. In a simple ponytail to keep it from falling in your face
b. Pulled back with a headband, though occasionally you do break out the curling iron
c. Sleek and straight
d. Long and loose
Mostly A's: Casual Coed
You choose comfort over couture every time. But in your faded jeans and shapeless tops you've been mistaken for the office intern on more than one occasion. Maybe it's time to take your wardrobe up a notch so you look like the competent young professional that you undoubtedly are. With ballet flats and menswear-inspired trousers currently in style, you can dress professionally and still feel comfortable.
Mostly B's: Preppy Princess
You're all about classic, feminine looks like Ann Taylor cardigans and anything pastel. You always look nice, but unfortunately "nice girls" don't always get promoted. If you want your wardrobe to balance maturity and professionalism with a willingness to take calculated risks, shake things up with (still feminine) fall trends like tie-neck blouses, medallion flats, and, depending on your office, peep-toe pumps.
Mostly C's: Corporate Clone
You want to be taken seriously, so you follow office dress codes to the letter. Dressing conservatively can work in your favor if you're in a field like business or finance. But if you're in an industry that allows for creativity (like a design firm or a nonprofit), you can afford to experiment more with how you dress. Even if you work in a formal office, you can choose pumps or a purse in an eye-popping color to dress up a drab uniform and show that you've got style.
Mostly D's: Sexy Secretary
Either you're trying to catch the eye of that cute guy in accounting or you're oblivious to the sexy signals you're sending. Nothing wrong with a pencil skirt or a fitted jacket, but you might want to button that blouse or tone down the makeup (at least during work hours). That way your male colleagues will focus on your design ideas rather than your décolletage.