Easy Finger Foods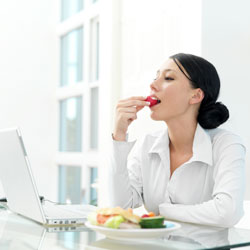 You're sick of bringing the same tired (and cheap) bottle of wine to every party, but after putting in a full day at the office, you don't have the time—or the refrigeration techniques—for much else. To save you from a lifetime of predictable party prep, we came up with four finger-food recipes that are simple to make and travel well. Just pack these puppies with your lunch, then unwrap them once you arrive at your after-hours event. Your hostess won't know what hit her. (Until she opens up that bottle of bubbly brought by someone else…)
Roasted Olives With Fennel and Lemon
16 ounces imported black olives (kalamatas work well)
8 garlic cloves, peeled and sliced
1 lemon, scrubbed and thinly sliced
2 teaspoons fennel seeds
½ cup extra virgin olive oil
½ teaspoon crushed red pepper flakes
1. Preheat oven to 350 degrees. Spread olives, garlic, and lemon slices in a 9×13 pan.
2. Drizzle with the olive oil and sprinkle with the fennel seeds and red pepper flakes.
3. Bake for 45 minutes, stirring at least three times while cooking. Remove from oven and store in refrigerator.
Make It Giftable: Put olives in a glass jar and tie with a ribbon.
Red Onion Marmalade
½ stick unsalted butter
2 medium red onions, halved lengthwise and sliced very thin
¼ cup red wine vinegar
2 tablespoons mild honey
¼ teaspoon salt
1/8 teaspoon ground pepper
1. Melt butter in a heavy saucepan over medium heat and cook onions, uncovered, stirring occasionally until soft (about 8 minutes).
2. Stir in vinegar, honey, salt, and pepper and cook, covered, over low heat, stirring occasionally, until onions are tender, about an hour to an hour and a half (FYI, that's an hour of Grey's Anatomy and 30 minutes of rehashing the plotline).
3. Serve marmalade at room temperature alongside crostini (sliced toasted baguette slices) and a log of goat cheese.
Make It Giftable: Arrange marmalade (in a condiment bowl), crostini, and goat cheese on a plate and garnish with sprigs of rosemary.
Mini Black Bottom Cupcakes
8 ounces cream cheese at room temperature
2½ cups sugar
Salt
One large egg
6 ounces mini chocolate chips (use semisweet)
2¼ cups flour
1½ teaspoons baking soda
¼ cup plus 2 tablespoons unsweetened cocoa powder
1/3 cup plus 3 tablespoons vegetable oil
1½ teaspoons apple cider vinegar
1½ teaspoons vanilla
1. Preheat oven to 350. Line mini-muffin tins with liners.
2. Using an electric mixer, combine cream cheese, 1 cup sugar, egg, and 1/8 teaspoon salt in a medium-size bowl. Stir in the chocolate chips and set aside.
3. In a larger mixing bowl, mix flour, 1 ½ cups sugar, ¾ teaspoon salt, baking soda, and cocoa powder. Add 1 ½ cups water, oil, vinegar, and vanilla and beat until smooth. (Or, in a pinch, use devil's food cake mix and top with the cream cheese mixture before baking.)
4. Fill each baking cup 2/3 of the way full with chocolate batter and top with a dollop of the cream cheese mix.
5. Bake until the edges are firm (the middle will be soft), about 25 minutes.
Make It Giftable: Line tins with festive silver foils and arrange on a vintage plate.
Pistachio Cranberry Shortbread Cookies
1½ cups flour
½ teaspoon cinnamon
¼ teaspoon salt
1½ sticks butter, softened
¼ cup plus 2 tablespoons granulated sugar
½ teaspoon finely grated fresh orange zest
½ cup shelled pistachios
½ cup dried cranberries
1 large egg, lightly beaten
¼ cup coarse sugar
1. Stir together flour, cinnamon, and salt in a bowl. Set aside.
2. Beat together butter, granulated sugar, and orange zest in a large bowl until pale and fluffy, about 3 minutes.
3. Add flour mix slowly, mixing till dough just comes together in clumps, then mix in pistachios and cranberries.
4. Gather and press dough together and divide into two equal pieces. Form each piece into a log about 1½ inches in diameter. Square off the long sides of each log to form a bar, cover with plastic wrap, and chill for at least 2 hours.
5. Preheat oven to 350 degrees and line a baking sheet with parchment paper to keep cookies from sticking.
6. Brush lightly beaten egg over the long sides of the logs and sprinkle and press the logs with the coarse sugar.
7. Cut each bar crosswise into cookies and place onto the cookie sheet. Bake cookies until pale gold, about 15 minutes.
Make It Giftable: Wrap cookies in old-fashioned waxed paper and tie with holiday ribbon.