Easy Healthy Lunch Food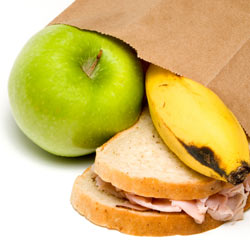 Bringing lunch is no fun, right? Who has the time to prepare an elaborate, good-for-you meal in the morning? And once lunchtime rolls around, that sandwich or salad you slapped together five hours ago just isn't as appealing as the delectable options your co-workers have carted back from your favorite take-out joint. But brown-bagging it doesn't have to be boring or time-consuming. The folks at Hungry Girl have made a business out of creating healthier versions of your favorite foods—without sacrificing flavors. Here, a few of their favorite lunch foods, many of which can be prepared the night
before and microwaved at the office. Yum!
Turkey Club Sandwich
Ingredients:
2 slices light bread
2 slices Jennie-O Extra Lean Turkey Bacon
2 oz (about 4–6 slices) 98% fat-free turkey breast
2 slices tomato
2 leaves romaine lettuce
2 tsp fat-free mayonnaise
Directions:
Toast your bread. Cut bacon strips in half. Over medium heat, cook bacon strips in a pan sprayed with nonstick spray until crispy (about 5 minutes). (This can be done the night before and the bacon can be microwaved the next day.) Spread mayo onto one piece of bread and then top with the turkey slices, tomato, lettuce, and bacon. Finish it all off with the other piece of bread. MAKES 1 SERVING.
Serving Size: 1 sandwich
Calories: 200
Fat: 3g
Sodium: 1,146mg
Carbs: 24g
Fiber: 6g
Sugars: 5g
Protein: 22g
Lo Mein
Ingredients:
3 bags House Foods Tofu Shirataki, original spaghetti shape
One 10-to-16-oz bag frozen Chinese-style stir-fry mixed veggies (with broccoli, water chestnuts, etc.)
8 oz raw boneless skinless lean chicken breast, cut into strips
1 cup bean sprouts
1/2 cup chopped mushrooms
1/2 cup thinly sliced zucchini
1/2 cup chopped scallions
1/4 cup shredded carrots
1/4 cup reduced-sodium or light soy sauce
1 tbsp cornstarch
2 tsp chicken-flavored powdered consommé/bouillon
2 no-calorie sweetener packets (like Splenda)
Directions:
Rinse and drain Tofu Shirataki noodles VERY well. Dry them thoroughly and run a knife or kitchen shears through them a few times (so noodles aren't as long). Set aside. To make sauce, combine soy sauce, cornstarch, consommé/bouillon, and sweetener with 1/2 cup of hot water. Stir well and set aside. Bring a large pan or a wok sprayed with nonstick spray to medium-high heat. Add chicken and all the veggies (the frozen and the fresh ones). Stirring frequently, cook for 5–7 minutes (until chicken is cooked throughout and frozen veggies are heated). Pour sauce into pan/wok, stir well, and continue to cook until sauce has thickened. Lastly, add in the noodles and cook until entire dish is thoroughly mixed and heated. MAKES 4 SERVINGS.
Serving Size: 1/4 of recipe
Calories: 167
Fat: 1.5g
Sodium: 925mg
Carbs: 19g
Fiber: 6g
Sugars: 4g
Protein: 18g
Eggplant Parm
Ingredients:
1 large eggplant
1/2 cup egg whites (about 4 large egg whites)
1 cup Fiber One bran cereal (original), ground to a breadcrumb-like consistency in the blender
1 cup canned tomato sauce w/Italian flavoring (such as Hunt's Tomato Sauce With Basil, Garlic & Oregano)
1 cup shredded fat-free mozzarella cheese
1/4 cup reduced-fat grated parmesan-style topping
1/2 tsp garlic powder
1/8 tsp salt
1/8 tsp pepper
Optional: dried Italian seasonings (basil, oregano, etc.)
Directions:
Preheat oven to 375 degrees. Slice ends off of eggplant and cut it lengthwise into 1/2-inch strips. Use a paper towel to blot eggplant slices on both sides (to remove excess moisture). Spray a large baking pan with nonstick spray. Season crumbs with garlic powder, salt, pepper, and—if you like—additional seasonings. Coat eggplant slices on both sides—first with egg whites, then with Fiber One crumbs. Place slices flat on the baking pan and cook in the oven for 30 minutes. Then, flip slices over and bake until browned on both sides (about 10 minutes longer). Remove pan from oven, but leave oven on. Spread 1/4 cup of sauce over the bottom of an 8" X 8" baking dish sprayed lightly with nonstick spray. Arrange half of the baked eggplant slices evenly over the sauce. Continue to layer ingredients evenly in this order: sauce (1/4 cup), mozzarella and parm topping (half of each), sauce (1/4 cup), eggplant (remaining slices), sauce (1/4 cup), and cheeses (remaining amounts). Cover dish with foil and return to the oven. Bake for 25 minutes or until heated throughout. Allow to cool slightly, and then cut into quarters. MAKES 4 SERVINGS.
Serving Size: 1 generous portion (1/4 of recipe)
Calories: 170
Fat: 2.5g
Sodium: 872mg
Carbs: 29g
Fiber: 13g
Sugars: 5g
Protein: 15g