Easy Lunches to Take to Work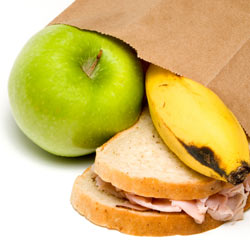 Bringing lunch to work is depressing, isn't it? No matter what you pack, it just can't compare with the delicious soups and sandwiches that the deli down the street serves up. (So worth the $10 you inevitably drop there on a daily basis.) But if you put just a teensy bit of energy into planning your lunches you might actually surprise yourself. The following recipes are inexpensive and easy to make. And, oh yeah, totally delicious! Lunch is served!
Easy Greek Salad
This salad holds up well, so you can bring it to work and have it for several meals. Serve it with warm, toasted pitas or flatbread to make it extra authentic.
4 large tomatoes, cored and cut into wedges (if it isn't tomato season you can used bite-size cherry tomatoes—you don't even have to cut them if you don't have the time)
2 large cucumbers, peeled and cut in half lengthwise, then seeded and sliced
1 small red onion, peeled and sliced thin
1/2 cup pitted kalamata olives
1 cup crumbled feta cheese
1/4 cup fresh parsley
1/4 cup olive oil
3 tablespoons red wine vinegar
1 teaspoon salt
1/4 teaspoon ground black pepper
Combine tomatoes, cucumber slices, red onion, olives, feta, and parsley in a medium bowl. Toss in olive oil, red wine vinegar, salt, and pepper. Pack in a plastic container and go.
Turkey, Gouda, and Apple Sandwich on Seed Bread
This sandwich is based on my favorite bakery-made sandwich. I'd never thought about how easy it would be to make at home!
2 slices wheat or seed bread
Turkey slices (eyeball it, you know how much you like)
1 Granny Smith or other tart apple, sliced very thin (save what you don't use for a snack or another sandwich)
2 slices Gouda cheese
Dijon or whole-grain mustard
Mayonnaise
Spread one slice of bread with mustard and another with mayo. Place turkey on bread and then top it with the Gouda cheese and a thin layer of apple slices. Add lettuce if you desire. Slice and enjoy!
Sesame Peanut Noodles
This easy recipe is based on one by the Goddess of Good (and Easy!), Nigella Lawson.
Dressing:
1 1/2 teaspoons sesame oil
1 1/2 teaspoons garlic-infused oil (you can use 1½ teaspoons regular olive oil and ½ teaspoon minced garlic, too)
1 1/2 teaspoons soy sauce
1 tablespoon sweet chile sauce
3 tablespoons peanut butter
1 tablespoon lime
Noodles:
1/2 pound cooked egg noodles (4 servings)
1 cup bean sprouts, rinsed
1 cup frozen peas (you can toss the peas in for the final 1–2 minutes that the pasta cooks to heat them in a flash)
1 red pepper, seeded and cut into small strips
2 scallions, finely sliced
1 1/8 cup sesame seeds
1/8 cup chopped, fresh cilantro
Whisk together dressing. Put noodles, bean sprouts, snow peas, sliced pepper, and scallions into a bowl. Pour dressing over everything and toss to coat. Sprinkle with sesame seeds and cilantro and pack.
DIY Personal Pizzas
This recipe is great because it makes several little pizzas that you can bake, store in the freezer (wrap first in waxed paper and then slip into ziplock freezer bag), and then pull out to thaw and take to work!
Premade pizza dough
Olive oil
Salt and pepper
Favorite pizza toppings: I like roasted vegetables—red and yellow peppers, onions, and tomatoes with crumbled goat cheese and fresh basil. You could also add pepperoni or sausage. If you like to use a red sauce, be careful, as too much can make the pizzas soggy.
Prepare vegetables:
Slice one purple onion
Slice and core 1 red and 1 yellow pepper
Slice and seed 2 medium tomatoes, or you can use one cup sliced baby tomatoes.
Drizzle with olive oil and roast at 400 degrees for 25 to 30 minutes or until done (check frequently)
While vegetables roast, shape dough into small, personal-size pizzas and lay on cookie sheet. Depending on how malleable and sticky the dough is, you may need the help of a rolling pin and/or some flour for dusting. Brush pizza dough with olive oil. When vegetables are done roasting, remove from oven and top pizza dough with spoonfuls of vegetable mix. Sprinkle with crumbled goat cheese and top with torn basil pieces and a sprinkling of salt and pepper. Bake according to directions on dough package.