Easy Summer Meals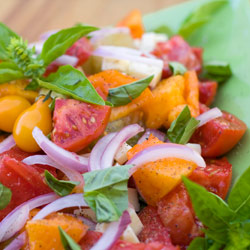 Once summer heats up there are lots of days where it's just too hot to fire up the stove and fix yourself dinner—especially when you've just spent 14 hours at the office. But days of salad and takeout can get boring (and expensive) quickly. Plus, you've got to eat something healthy before you crack open the ice cream!
Here are a few no-cook recipes that are full of flavor to spice up your summer days and nights.
Corn & Black Bean Salad
This is a great dish for a picnic, barbecue, or just for eating at work or at home—healthy, quick, and fresh!
16-ounce bag of frozen corn kernels, thawed
15-ounce can of black beans, drained and rinsed
1 red pepper, cored and diced
1 yellow pepper, cored and diced
1 small red onion, diced
1 bunch fresh cilantro, chopped
1 jalapeño pepper, cored and diced
1 avocado, split and diced
Juice of one lime
2 teaspoons cumin chili powder
2 teaspoons chili powder
1 tablespoon sugar
1/4 cup white wine vinegar
1/2 cup vegetable oil
1 teaspoon salt
Combine all ingredients in a bowl and toss well. Chill one hour before serving.
Serves 8 to 10
Mango Chicken Salad
1 store-bought roasted chicken, skin removed and shredded
2/3 cup canola oil
1/4 cup white wine vinegar
1 tablespoon Dijon mustard
3 teaspoons sweet chili sauce
2 garlic cloves, minced
1/2 cup mango chutney (store bought)
4 green onions, chopped
1 celery stalk, chopped
1/3 cup roasted, salted cashews coarsely chopped
1 mango peeled, pitted, and thinly sliced
4 cups romaine lettuce
1. Make vinaigrette by combining oil, vinegar, mustard, chili sauce, garlic, and chutney. Use a blender to make sure ingredients are well combined.
2. Combine chicken, green onion, celery, and mango. Add vinaigrette and toss gently to coat. Serve salad on top of lettuce or combine salad and lettuce and serve in a wrap.
Serves 4
Cold Tomato Soup
Who says you can't have soup and salad for dinner in the summertime? This chilled tomato soup is light, flavorful, and refreshing.
1 quart tomato juice
2 cups buttermilk
2 tablespoons fresh lemon juice
1/4 tablespoon Worcestershire sauce
8 dashes Tabasco
3/4 teaspoon coarse salt
1/8 teaspoon fresh ground pepper
Chopped fresh chives, for garnish
Combine all ingredients except chives. Cover and refrigerate for at least an hour, then stir to recombine before serving. Garnish with chopped chives.
Serves 6