Easy Thanksgiving Dinner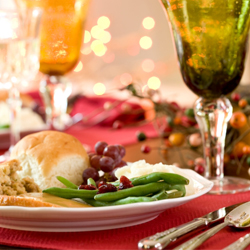 With airline prices on the rise, not everyone can afford to go home for the holidays. Which means you might find yourself in charge of cooking this year's Thanksgiving bird. While spending the holidays with a few close friends sounds cozy and charming (none of Aunt Jill's endless questions about your job and romantic life), cooking one of the biggest feasts of the year can be completely overwhelming. That's why WORKS has done it all for you: A simple turkey, festive salad, roasted yams, and to-die-for pumpkin bread pudding make for a delicious Thanksgiving Day, indeed.
Ask friends to bring a bottle of wine and a favorite side dish from home, and you've got a traditional yet modern meal you and your guests will remember for years to come.
The Turkey
Here's a turkey recipe that takes all of the guesswork out of cooking. Instead of roasting the turkey whole, purchase a butchered one that will cook more evenly and quickly than a big bird. Also, don't forget to budget time to brine the turkey parts (see below for instructions). Doing so will help make the bird succulent and perfect. Serves 8.
Ask the butcher to cut up a small (around 10–12 pound) turkey. You'll end up with:
1 turkey breast on the bone
2 drumsticks
2 thighs
Additionally you'll need:
¼ cup kosher salt
¼ cup honey
1 head garlic, cut in half (don't peel)
2 dried bay leaves
4 sprigs fresh thyme
6 large sprigs fresh sage
2 teaspoons whole fresh peppercorns
2 teaspoons allspice berries
¼ cup fresh celery leaves (from one bunch of celery)
3 tablespoons melted unsalted butter
1. Brine the turkey parts. Rinse the turkey parts and place in large Ziploc bags. Add salt, honey, garlic, bay leaves, thyme, two of the sprigs of sage, peppercorns, allspice, and celery leaves. Add enough cold water to cover turkey parts. Press out air and place Ziploc bags with turkey inside in a large bowl to protect against leaks. Refrigerate 6 hours or overnight.
2. Preheat oven to 425 degrees. Remove turkey parts from brine. Pat dry with paper towels and place skin side up on racks in two roasting pans (make sure to leave room between the turkey parts for circulation). Pour 1 cup water into each pan. Drizzle turkey parts with melted butter and scatter with sage leaves. Place 1 pan on each rack and roast until beginning to brown, about 30 minutes.
3. Lower the heat to 400 degrees, switch the pans, and rotate them 180 degrees. Continue roasting until an instant-read thermometer inserted into the thickest part of the breast (careful to avoid the bone) registers 165 degrees. This will take about 1¼ hours. Serve turkey on a platter garnished with sage leaves.
Apple Shallot Stuffing
This easy stuffing can be assembled, covered, and chilled (but not baked) two days before Thanksgiving. Be sure to bring the dish to room temp before baking. Serves 8.
1 loaf country-style French bread cut into ½ inch cubes
1½ sticks unsalted butter
1 pound shallots, chopped (about 3 cups)
2 pounds Granny Smith apples
1 cup dried currants
1 cup apple cider
1¼ teaspoons marjoram
1½ teaspoons salt
1 teaspoon black pepper
¼ teaspoon nutmeg
Pinch of allspice
1 cup walnuts toasted and coarsely chopped
1 tablespoon fresh grated lemon zest
2 cups chicken broth
1. Preheat oven to 325. Spread bread cubes in two shallow baking pans and bake in upper and lower thirds of the oven, switching positions halfway through baking, until golden, about 20 to 25 minutes total. Cool bread in pans on racks, then transfer to a large bowl.
2. Melt butter in a 12-inch, heavy skillet over medium heat, then add shallots and cook, stirring frequently, until shallots are well browned, 15 to 20 minutes.
3. While shallots are cooking, peel, core, and chop apples. Boil currants and cider in a 1-quart heavy saucepan, stirring occasionally, until cider is absorbed (6 to 8 minutes). Add apples to browned shallots along with marjoram, salt, pepper, nutmeg, and allspice and cook, stirring occasionally, until apples begin to soften, about 8 minutes.
4. Transfer currants and apple mix to bowl with bread cubes. Add walnuts, zest, and stock and toss well.
5. Transfer stuffing to a buttered 3-to-3½ quart shallow baking dish. Bake, covered, on middle rack for 30 minutes, then uncover and bake until browned for about 30 minutes more.
Marguerite's Mixed Greens
A holiday favorite from my house to yours. This salad is so fabulous you'll want to serve it for all your special occasions.
Serves 6 to 8.
1 cup pecan halves
¼ cup sugar
8 cups mixed greens
½ cup sun-dried cranberries
1 cup crumbled blue cheese
1 red onion, thinly sliced
2 oranges, peeled and thinly sliced
2 pears, cored and thinly sliced
1. Put pecan halves and sugar in a small pan over low heat. Cook for 2 to 3 minutes, stirring often until sugar dissolves and coats the pecans. Remove from heat and cool to remove temperature (break up pecan halves if they are stuck together).
2. Place greens in large serving bowl. Sprinkle with cranberries, blue cheese, and sliced onion and top with chunks of orange and pear. Sprinkle with sugared pecans.
Dressing
4 tablespoons raspberry or other fruit-flavored vinaigrette
1 tablespoon Dijon mustard
½ teaspoon salt
½ teaspoon pepper
¼ cup canola oil
Combine the vinegar, mustard, salt, and pepper in a small bowl. Whisk in the oil until incorporated. Pour dressing over salad just before serving.
Roasted Yam Halves
Roasting yams saves you time and energy—no need to boil and mash the potatoes or worry about the lumps! Serves 8 (1/2 yam per person).
4 yams (about 1 pound each)
4 tablespoons olive oil
2 tablespoons thyme (use fresh if you can)
Coarse salt and fresh ground pepper
Preheat oven to 400. Halve yams and place cut side up in a shallow baking dish large enough to hold them in a single layer. Drizzle with olive oil and sprinkle with salt and pepper. Bake until golden brown and very tender, 35 to 45 minutes.
Pumpkin Bread Pudding With Caramel Sauce
A modern twist on pumpkin pie that is guaranteed to be the opulent grand finale of a fabulous Thanksgiving meal. Serves at least 8.
2 cups half-and-half
1 15-ounce can pureed pumpkin
1 cup plus 2 tablespoons dark brown sugar
2 large eggs
1½ teaspoons pumpkin pie spice
1½ teaspoons ground cinnamon
1½ teaspoons vanilla extract
10 cups of challah or egg bread cut into 1-inch cubes (plan on buying a couple of loaves of bread)
½ cup dried cherries
Powdered sugar, for sprinkling
Caramel Sauce
1 and ¼ cups dark brown sugar
½ cup (1 stick) unsalted butter
½ cup whipping cream
1 teaspoon salt
1. Preheat oven to 350 degrees. Whisk half-and-half, pumpkin, dark brown sugar, eggs, pumpkin pie spice, cinnamon, and vanilla in a large bowl. Fold in bread cubes and stir in dried cherries. Transfer mix to 11×17 baking dish. Let stand for 15 minutes. Bake until tester inserted in the center comes out clean, about 40 minutes.
2. To make sauce: Whisk brown sugar and butter in a heavy medium saucepan over medium heat until the butter is melted. Whisk in cream and stir until sugar dissolves and sauce is smooth, about three minutes.
Sprinkle powdered sugar over the bread pudding and serve warm topped with the caramel sauce.