Email Networking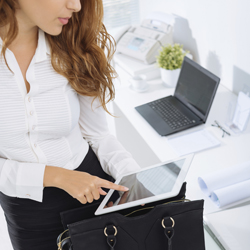 Ask an etiquette expert and they'll probably tell you that e-mail is a poor substitute for phone or in-person contact. And you can see their point. Ever broken up with someone by e-mail? I'm guessing the reaction wasn't good. But e-mail can be a highly effective way to make—and make the most of—your connections. Here's how.
Edit your email persona. You'll want to use your personal e-mail for any networking that isn't related to your current job. You should also do it exclusively at home or on a nonwork computer, especially if your end goal is a position somewhere else. And make sure your personal e-mail account is as professional as your work one. "[email protected]…" works. "Hot Shoe Babe" does not.
Build your list. Stockpile your address book with the names and contact info of people you meet. A good address list—one that's up-to-date and chock-full of contacts you can still identify—is valuable beyond belief. People pay to get ahold of contact lists, and nothing beats one you assemble and refresh yourself. You can also break the list into subgroups. For example, I have people I want to invite to book readings. I also have Red Sox fans I want to notify when I write something specific to the Red Sox. Every time you get a business card, the e-mail should go right into your list. (This is assuming you like the person; I've never been one for networking with people I couldn't stomach being trapped on an airplane with for three hours.) Make it a discipline to keep the list up-to-date.
Think before you send. When you network via e-mail, be mindful of whether the information will be valuable to the recipient. If you win an award, sending an announcement out is probably too self-serving. But if you publish an article or are quoted in one, circulate it to anyone who might find it interesting. For that matter, if you stumble on a story about villas in Florence, go ahead and forward it to someone in your women's group who said she wanted to take a vacation. A nice, personal e-mail to a contact a friend connected you with asking for an informational interview is fine. Just do your homework and be sincere. And whatever you do, don't send chain e-mails or anything racy, religious, or political.
Make it personal. Content isn't all that counts. Do your best to personalize your e-mail greeting rather than use the massive "Dear Friends…" And any time you e-mail more than one person, put the addresses in the bcc line so recipients won't see each other. Avoid attachments, which some firewalls reject, and paste documents right into the body. And make sure the subject line is short, specific, and doesn't sound like spam. If you have a mutual contact, use her name in the subject line: "So-and-so gave me your name."
Remember, though, that none of these tips will benefit you if you don't put them into practice. Even if you're buried under a mountain of paperwork, chances are your index finger is operable. That VP at the literary agency where you're dying to bring the next Harry Potter? E-mail her and see if you click.