Entertain Your Co-Workers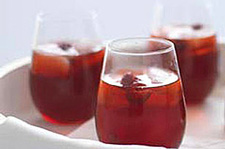 You like the people you work with. You like to throw parties. So it's not surprising that you're thinking about combining the two and hosting a simple summer soiree. But having your colleagues—or better yet, your boss—over to your home is a bit more complex than inviting your friends over. You aren't breaking out the good linens and buying the "expensive" wine (red: costs more than $10) for people who hang out at your place all the time. By the same token, you probably don't want to behave as casually as you do with your crew. (Don't, under any circumstances, take out the tequila and ask who wants to do shots.) But entertaining your co-workers can be a great way to build camaraderie, and it also gives them a glimpse into how you really live—or how you live when company's coming over. Here, a few tips to throwing a party or dinner that strikes just the right "I'm classy, but poor" balance.
Remember that timing is everything. More than likely, your colleagues will be happy to spend time with you outside of the office—especially if you're going to feed them. However, the quickest way to squelch their enthusiasm is to plan your party on a bad night. For example, do you really want to give up your Saturday evening for a work function? Neither do your co-workers. The night before a big meeting or presentation probably isn't the best choice either. Instead, have them over on a Friday after work, or for a Sunday-afternoon barbecue. Thursday nights also work well, especially if your office is typically quieter on Fridays.
Decide on the guest list. Unless you've got a big house, or an office with less than 15 people in it, it's best to just invite the people you work closely with, or those who've become your friends. If you're inviting your whole department, you should probably include your boss. However, if she's a crazy bitch who everyone hates, then it's fine to leave her out. Just make sure none of your co-workers mention your event in front of her. (Threaten to disinvite them if they slip.)
Get rid of the evidence. In addition to giving your home a good scouring, you might want to take down those photos on the fridge of you and your girlfriends guzzling wine straight from the bottle and posing provocatively with strange men you met at a bar. The same goes for the tantric sex book and the heat-activated massage lotion on your bedside table. Your co-workers don't need to know everything about you.
Keep your food simple and full of flavor. There are two tricks that can help make basic fare even better: presentation and excellent ingredients. Hummus, mixed olives, and salted nuts alongside grilled vegetables and feta provide a Mediterranean feel. A hearty salad, sliced salami, and artisanal bread screams rustic French. And summertime is the one season when burgers make a great meal. (See recipe below.) Serve the food up on beautiful platters, antique bowls, and real dishes—none of that paper or plastic stuff.
Take the party outdoors. If it's nice out, and you have the space to do it, hold your fiesta alfresco. The impact on your home or apartment is minimal, and it keeps the festivities in a neutral and comfortable space. For food and drink, don't aim to be a full-service bar. Pick a few microbrews or a bottle or two of wine. If you like, stick to a signature cocktail like cosmopolitans. (See recipe below.) And make sure you have some feisty nonalcoholic options for those who don't want to partake. And though we've said it a million times, this one bears repeating: Don't drink more than your co-workers do. As the hostess, you should be taking care of your guests, not the other way around.
Backyard BBQ Bacon Cheeseburgers
My friend Suzi made these fabulous burgers at her very first barbecue in her brand-new house. They're so good we keep coming back for more! Serves 1.
2 slices bacon
½ lb. ground beef or chuck
1 tsp tamari
1 tsp lemon juice
Fresh ground black pepper
2 tbs grated white cheddar cheese
1 crusty white roll, split
2 leaves iceberg lettuce (optional)
Preheat broiler. Fry bacon in a medium ovenproof skillet over medium heat, turning often until crisp, 5 to 6 minutes. Transfer bacon to paper towels to drain and set aside. Set skillet with rendered bacon fat aside. Gently shape meat into a 4 and ½ inch patty (don't overhandle or it will make the meat tough). Season one side of the patty generously with salt. Return skillet with bacon fat to stove and heat over medium-high heat. Sear patty, salt side down, until bottom is well browned, one minute. Flip patty, spoon tamari and lemon juice on top, season with pepper, and sear until bottom is well browned, about one minute. Reduce heat to medium low and continue cooking an additional 2 minutes per side for medium-rare burgers. Put cheese on top of patty and broil until melted but not browned, about one minute. Alternately, you can sear the burgers on the stove and then finish on the grill. To assemble, put the patty on the roll, top with bacon, lettuce, and tomato if desired, and slather on the condiments. Enjoy!
Cosmopolitans
4 cups cranberry juice
2 cups citron-flavored vodka
1 cup triple sec
½ cup lime juice
Mix all ingredients in a glass pitcher. Refrigerate before serving. Serves 4–6.