The Exit Interview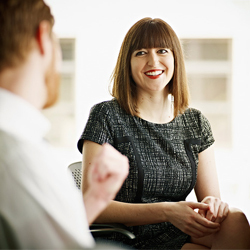 Exit interviews are a tricky business. As you're counting down the hours until you collect your final paycheck and meet your friends to celebrate a new chapter in your career, the HR person in front of you may be asking about your reasons for leaving, your take on your boss' management style, and your suggestions for retaining other employees. While you'd love to tell them about the time your boss strolled into work at two in the afternoon after a night of heavy partying (and kept her sunglasses on indoors), how honest should you really be with HR? After all, your exit interview is one of the last items you'll complete at your current job, so it could leave a lasting impression about your time at the company and your level of professionalism. Here are some tips for navigating the exit interview so you can leave on the right note.
Prep like you would for a job interview. I didn't give much thought to what I'd say in my first exit interview. I knew it probably wouldn't be smart to complain about disagreements I'd had with my co-workers or company policies that seemed totally out of sync with reality, but I didn't think about what I would say instead. So, when the time came, I just blurted it all out. To my surprise, the HR person agreed with me and even shared some of her own frustrations. I was lucky, but I should have been more prepared. Remember, this is a business discussion, not a therapy session, so if you're afraid you might stray off topic like I did, write down a few things to say so you don't feel stumped. Things like "While I've enjoyed my time here, I'm ready for a new opportunity" or "I just really need a change of pace." Your interviewer can read between the lines without you having to tell them you're sick of waiting for that promotion you were promised three years ago.
Keep it professional. If you're leaving because of clashes with your co-workers or other on-the-job issues, then you might be tempted to vent to your interviewer (trust me, it happens to the best of us). But if you bring up these issues without getting emotional, it's possible that human resources can help you fix things before you make your exit. "It's an expensive loss to a company when a valuable employee resigns because recruitment and training costs are in the thousands," says Sharon Anne Waldrop, an HR veteran who has worked as director of human resources for the Marriott Hotels chain. "There's always a chance that during an exit interview the problem can be resolved and the employee ends up staying with the company." Even if you still decide to leave, helping human resources understand breakdowns in communication or management could improve things for your co-workers.
Find out if your comments will be kept confidential. "It's the employer's choice whether or not the results of an exit interview will be kept confidential," says Waldrop. "And even though the employees being interviewed are leaving, some may still be apprehensive about being totally honest if they know that their name will be revealed." Whether you're negotiating your new salary or planning your exit, it's always a good idea to ask for the terms in writing. And if you still don't feel comfortable speaking your mind, then don't. You're under no obligation to do so.