Extreme Vacations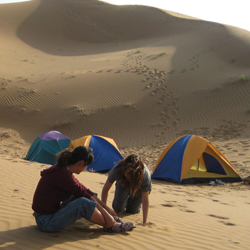 Anybody can lie on a beach and drink rum punch all day. But if you're itching for an adrenaline rush, consider one of these heart-stopping getaways.
Trek the Inca Trail to Machu Picchu
The first time you heard of Machu Picchu (the famous Incan ruins in Southern Peru) was probably in elementary school. Now it's time to experience its wonder first-hand with a trek along the breathtaking (literally—physical fitness is a requirement) Inca Trail to this "Lost City of the Incas." Nestled in the Andes Mountains, Machu Picchu is an amazingly well-preserved sacred site of houses, palaces, and temples abandoned in the 16th century. The traditional trek is four days through the surrounding Machu Picchu Historical Sanctuary, with sights of rare species and plants as well as other Incan ruins. Due to high traffic, trekkers must be part of an officially licensed tour. Dry season is June through September, so plan accordingly.
Surfing on Hawaii's North Shore (or Costa Rica!)
Many think that surfing Oahu's legendary North Shore is only for the pros, but that's not the case year-round. The ladies of Kelea Surf Spa teach groups of women how to tackle the waves in a protected spot ideal for beginners (though they are more than happy to accommodate more advanced surfers). Guests of the spa stay in a local home-turned-guesthouse and are treated to a massage as well as all meals, yoga and nature walks. At Kelea, they say your "greatest worry is sand in your surf wax," and they might be right. There is a recently opened outpost in Costa Rica, as well.
Dogsledding in Maine
Okay, it's safe to assume that you've never thought of yourself as much of a dogsledder, but think of all the people you'll impress at cocktail parties! Outward Bound, the leader in outdoor wilderness education, conducts a weeklong, women-only dogsledding expedition through either the Mahoosuc mountains, the White Mountain National Forest or on the Rangeley Lakes, the most spectacular places in western Maine. Previous dogsledding and skiing is not a requirement, but you probably shouldn't sign up if you hate dogs or the cold.
Anything in Queenstown, New Zealand
What adventure travel list would be complete without mention of Queenstown, New Zealand, dubbed the 'Adventure Capital of the World'? A city seemingly fueled by adrenaline, Queenstown offers jet-boating (basically power boating down rivers), white water rafting, skydiving, hangliding, river sailing, paragliding and bungy jumping. The nightlife is no letdown, either. With over 160 bars and cafes in downtown Queenstown, the night offers up a whole different set of adventures.
Safari through Botswana
Do you have any idea what a wildebeest looks like? Then find out! Botswana in Southern Africa has plenty of them. Traverse the country with a highly regarded tour operation: Wilderness Tours, winner of National Geographic's World Legacy Award for sustainable tourism. The Great Botswana Journey takes you across the grand Okavango Delta, an oasis in the middle of a desert created by floodwater and home to a large diversity of wildlife, and to Victoria Falls, one of the Seven Wonders of the World.