Financial Resolutions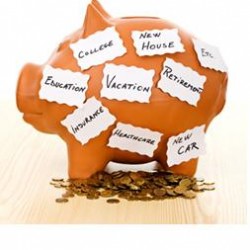 It's the beginning of the year, which means most people are vowing to do one of two things: (1) Start exercising or (2) Start managing their money.
I like to go for a nice (slow) jog every once in a while, but my specialty is in the latter: money management. I'm someone who has not always been the best at managing my finances, but I've learned that it's not hard to change that— it's all in the strategy. See, the problem with making New Year's resolutions is that come February, they're long gone. And that's not necessarily because we don't want to keep them, but it's because we're not going about it the right way.
Take exercising, for example. If you never work out, there's no part of you that's going to enjoy diving into an hour-long, face-paced run. You're likely going to pass out mid-run and the only thing that will keep you moving is the thought of a hot shower and a seat on your couch upon your return home.
The trick is to start slow. And the same goes for the way you manage your finances.
You can conquer money management in 2015 by trying these simple financial resolutions that you'll actually keep.
1. Pay attention. This is by far the easiest of all easy financial goals. Track your spending, know where your money is going, read your bills and statements — you get the idea. One easy way to make this happen is to use free account management tools that are easily accessible to you. When you utilize the right digital tools, managing your finances is a lot easier. And when you're more aware of what's going on with your accounts, you're more likely to make on-time bill payments (bye, late fees!) and feel more in control.
2. Take small steps to improve your credit. There are little things you can do now that will improve your credit score over time. For starters, if you don't have a credit card, get one. If you do have a credit card, use it lightly, and make sure you're paying it off in full each month. If you can't do that, make sure you're paying more than the minimum balance on your credit card. By only paying the minimum balance, you will pay more in interest over a longer period of time.
3. Make the gradual transition to paperless billing. Our digital world is full of digital tools, so take advantage of them. There is nothing organized about having to sift through a mile-high stack of paper bills and statements and then spend hours filing them.
4. Shop the deals, and become the best bargain shopper you know. There is no shame in looking for the big red tags that scream 90 percent off.
5. Make a simple change to your budget. Look at your budget and ask yourself, "Do I really need everything here?" The essentials are your monthly bills and food. Add them up, subtract the total from your monthly income, and that's how much you have to spend on everything else — entertainment, shopping, and other luxuries. Is there anything you can eliminate? If not, that's OK. At least you are following tip No. 1 and paying attention.