Find a Job on Facebook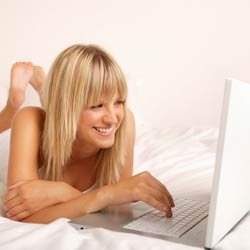 When Facebook first launched in 2004, its main users were college students who procrastinated by posting photos and "poking" each other. Now that Facebook is open to everyone, and its original users have joined the working world, it's become an avenue for networking, too. You can reconnect with former co-workers and classmates, join special-interest groups, and showcase your accomplishments. Here are a few guidelines to ensure that you put your best foot, er face, forward.
Assume that anything you post can be viewed by all. One of Facebook's best features is that you can customize your privacy settings to control how much (or how little) your contacts see. You can choose to hide your profile from people outside your geographic or alumni network, or to prevent other people from tagging you in photos. Still, you never know who might be swapping information with whom or who else might be in your network (for instance, I used my alumni status to look up students from my alma mater who applied for internships at my last company). So it's best to assume that a 3 a.m. wall message to your college roommate could be seen by your boss, co-workers, or people you don't even know.
Let your personality shine through. Though drunken Facebooking is a don't (see above), you don't have to delete all your fun photos and quirky status updates just because you're vying for a promotion or applying for a new job. In fact, some hiring managers say that when they see a job applicant whose Facebook profile is completely professional and devoid of personality, it makes them worry that the person won't be any fun to work with. A boring profile reeks of insincerity, because those fun little details like favorite movies or photos from your last trip make you seem approachable and personable. Feel free to express your silly or sarcastic or serious side, but keep it clean.
Don't confine your communication to Facebook. Sure, it's easy to dash off a quick Facebook message asking your friend from summer camp if she can hook you up with an interview at her company, but not everyone checks their account on a regular basis, and some might see this as a tad too forward. Frankly, Facebook doesn't lend itself to meaningful or in-depth conversations. Perhaps send your friend a message saying you're super-impressed that she's now an acquisitions editor (or a marketing exec or a film producer) and ask if she's willing to catch up over coffee or the phone. That gives you a chance to feel her out before you make the big ask and to connect in a more personal way. Because even in the post-Facebook world, people matter more than pixels on a screen.