Find a Personal Stylist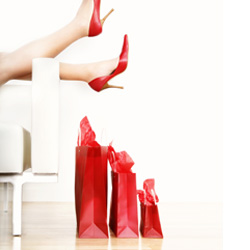 We all know how to dress ourselves, but there are times—important meetings with a client and black-tie charity dinners among them—when pulling together a polished look is completely overwhelming. And some women even fear getting dressed for a typical day at the office; it seems we never have anything to wear that represents the lifestyle or career aspirations we want to achieve.
That's where a professional stylist comes in. They can create a look that wows your audience, work within your budget to boost the everyday options in your closet, and make you feel better about the way you dress. Here's how to find a stylist who's right for you.
Do your research. "Interview more than one option if possible," says style maven and LifeStyled founder Darcey M. Howard. "This is a lot like hiring a therapist, and if you don't feel safe and secure with the person you are working with, you won't be honest with them and they can't help you."
Howard also recommends asking potential hires to describe their service in three words. Individuals who respond with words like efficient, thorough, resourceful, approachable, and affordable will give you the best bang for your buck. Toss aside candidates who respond solely with things like "I just love fashion and shopping."
Look beyond their appearance. When you're judging potential hires, remember to think about their personality and services—not just their personal style. A candidate might dress well, but that doesn't mean he or she is a good match for your needs. A good stylist is also a good listener and loves to teach, says Howard. They should also know how to work within your budget and with your core values, and have a philosophy on how to improve your relationship with your wardrobe.
Have the talk. When you are interviewing a stylist, share your goals right away. Let them know how you live your life and what you need your wardrobe to accomplish up front. Tell them if you want to merely update your look or overhaul it completely, and share what your long-term plans are (if any) for using a stylist down the road. If they respond positively to your conversation, you've found your match.
Know what you're paying for. Before you hire your candidate, take a look at their service list: It should include packages offering a combination of services and price points. Howard says you can expect to pay $650 to $4,000 for a package, or an hourly rate of $50 to $300, depending on the service and company. Pricey, yes. But worth the peace of mind you'll have the next time you wake up wondering, "What am I going to wear?"