Flip-Flops at Work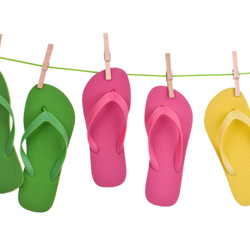 I am a flip-flop addict. Not long ago, the only shoes in my closet were sneakers and sandals. At the time, I did live in a super-casual California beach town, but everyone should have a pair of dress shoes they can put on in a pinch, right?
These days, you'll find flip-flop-clad feet everywhere, from the beach to the boardroom. But not every situation is ideal for sandals. Like when a member of Northwestern University's women's lacrosse team wore flips to the White House. So not appropriate.
I don't have the right to tell you what to wear any more than your mother does, so you're going to have to decide on your own. Don't take the decision lightly, though. After all, wearing flip-flops out of the house is the equivalent of wearing a thong bathing suit or a low-cut top; your goods are on display for all to check out. Here are some things to think about before daring to bare:
You may come off as young—and not in a good way.
Though we're an increasingly casual generation, our elders still have some stereotypes about and prejudices against flip-flops. Understand that your choice of footwear can paint you as underqualified for your job, immature, disrespectful, and downright lazy.
Are regular pedicures part of your routine?
If the answer is no, go for closed-toe. No one wants to see your skank feet. Get regular pedicures once or twice a month, and if you work in a more conservative setting, opt for lighter-hued polish. Not only will chips be less visible, you'll look much more professional. Keep a cute mani-pedi case in your purse for an insti-fix.
It's all about location, location, location.
If you live in tropical South Florida, it's much more appropriate for you to sport sandals to work than if you lived in urban Manhattan. Also, think about what your job entails. Are you in constant face-to-face contact with high-level executives? If so, you may want to forgo the flips for a dressier sandal.
Can your flips be mistaken for shower shoes?
If your office allows flip-flops, splurge on a fancier pair with beading or ones that come in metallic tones like gold or silver. Leave the rubber ones in your gym bag, or save them for less formal events like the office picnic.