Foods to Eat When You're Sick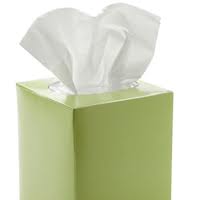 There's quite possibly nothing worse than being sick and not having Mom around to make you feel better. But you're a big girl now (like it or not), and you've got to take care of yourself. The first step is eating nutrient-spiked foods that will rejuvenate your immune system and comfort your soul. Here are some recipes that are so quick and easy you'll be able to manage them between sneezes—and you can tote them along to the office if you're unable to stay home. Get well soon!
Quick Chick Soup
This is my mom's recipe; it's guaranteed to make you feel better and it's easy!
1 whole chicken breast, bone in, skin on
Olive oil
Salt and pepper
4 cups chicken stock and 4 cups water
2 celery stalks, diced
3 carrots, diced
2 cups egg noodles
1 tablespoon fine herbs (your choice)
¼ cup fresh parsley
1. Place chicken breast on a sheet pan and rub the skin with olive oil and sprinkle with salt and pepper. Roast for 35 to 40 minutes, until cooked. When cooled, remove skin and shred meat.
2. Bring stock and water to simmer and add celery, carrots, herbs, and noodles. Simmer uncovered 10 to 12 minutes until veggies and noodles are cooked. Add chicken and parsley and heat through before serving yourself a big, warm bowlful!
Vitamin C Smoothie
Beat the cold germs into submission by making a big batch of this vitamin C-enhanced smoothie.
1 cup orange juice
1 cup strawberries (fresh or frozen)
¾ cup diced papaya (you can substitute mango, banana, or pineapple)
Combine all ingredients and blend until smooth. You can also freeze this smoothie and have it on reserve for when those terrible colds hit hard and fast!
Nonna's Noodles
I once survived a month with mono by only eating buttered noodles. It isn't a recommended diet move, but there's something nurturing and healing about this most simple of comfort foods.
2 tablespoons butter
1/3 to ½ cup panko bread crumbs, found in the Asian-food aisle of your supermarket
Salt and pepper
1. Melt butter in saucepan. Once melted, add bread crumbs and cook on medium-low heat until crumbs are browned and fragrant. Remove from heat and from the pan or the bread crumbs will burn.
2. Prepare one serving of egg noodles according to package directions.
3. Spoon bread-crumb-and-butter mix over egg noodles and sprinkle with 2 tablespoons Parmesan or Asiago cheese (if you're up for it!).
Homemade Ginger Tonic
Ginger is a known stomach soother. Sip this brew to help naturally alleviate cramps and nausea. Keep the ginger syrup in the fridge. Once you're feeling better (it will happen, we promise!), it makes an excellent addition to a cocktail.
Ginger Simple Syrup
½ cup peeled and sliced fresh ginger
1 cup water
¼ cup real maple syrup
1. Combine sliced ginger and water and simmer for 30 minutes. Cool slightly and then strain. Add the maple syrup and stir to mix. Makes about 1 cup of simple syrup.
2. Combine 2 tablespoons of the syrup with plain seltzer water and 1 tablespoon fresh lemon juice and stir to mix.