Is Freelancing For You?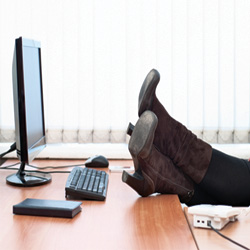 You spend too much time at the office working with colleagues you don't like, doing work that is less than inspiring. Admit it: on more than one occasion you've fantasized about leaving behind the 9 to 9 grind for the freelance life. But for all of the plusses—a flexible schedule, the chance to be your own boss, never having to wear an uncomfortable suit again—you can think of many minuses. How will you pay your bills? Afford healthcare? Figure out your taxes?
"Think of freelancing as a muscle you have to flex and build up," says entrepreneur Lisa Johnson. As a marketing expert and author, Lisa's been her own boss since 1998. "I almost hyperventilated in the beginning about even the small things. I felt so scared," says Lisa. Fortunately, it gets much easier with time and the right mindset. To keep herself positive, Lisa focuses on managing her thoughts. "I'm very proactive in feeling thankful instead of overwhelmed, confident and fearless instead of conservative and scared, and grace-filled instead of harsh with myself."
The truth is, while the freelance life can be risky, the benefits may be worth it. If you're calling the shots, you can control the projects you work on. Want to work from home, the park or the beach? As a freelancer, it's up to you where and how you get the work done. And you can work with different employers on a variety of projects and never get bored. No wonder so many people are doing it. According to the latest Bureau of Labor Statistics survey, there are 10 million freelance or independent workers in the United States. And of those, less than 1 in 10 would prefer a traditional work arrangement.
Want to find out if freelancing is for you? Try these tips:
Go straight to the source. Have lunch or coffee with a freelancer in your field (they'll appreciate the free meal!) and ask them what the self-employed life is like. Find out their personal pros and cons and also ask how they got started. The key to being a good freelancer is having a strong network of contacts.
Moonlight as a freelancer. Try out being your own boss as a side gig. Take on a few freelance projects and see what you like and don't like about the experience. I had a client who decided it was too lonely to freelance and happily kept her day job, while another enjoyed working from home and eliminating the commute.
Brainstorm your ideal freelance situation. Take time to reflect on how YOU want to freelance. I find it fun to do my own marketing but outsource my bookkeeping. Create your unique business model and price it out to make sure it will support you.
Start looking for a good accountant. As a freelancer, your taxes won't automatically be taken out of your paycheck. Instead you'll need to file as a self-employed individual and you'll probably need to pay taxes quarterly. Talk to an accountant and check out the IRS small business site for more information.
Think about your health. As a freelancer, you'll also need to find your own health insurance since you won't be covered by an employer's plan. It takes some research but affordable options do exist. Check out Freelancersunion.org or the National Association for the Self-Employed's website (www.nase.org). You'll find health plan information, tips and ideas on your healthcare options.
Time it right. Freelancing and corporate are good options for different times in life. If you're new to the workforce, go corporate and get a solid foundation and valuable business acumen. If you're an experienced professional and want more control over your time for family, travel or other life goals, freelancing may be just the ticket.