Have Fun This Summer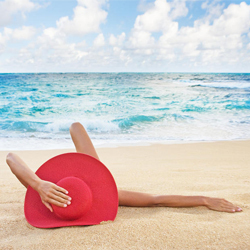 Last summer saw a surge of staycations—renting a hotel room in your own city and living like a tourist instead of splurging on a big vacation. Catchy and fun, right? But this summer it's a whole different story. Maybe you can't afford a vacation or a staycation. But that doesn't mean every Girl On Top isn't entitled to some summer fun. Here, 10 tips to rev up your summer and make you feel like you've been relaxing on the beach even if you've only been lounging in your yard.
1. Buy a kiddie pool. Yep, we're talking one of those plastic or inflatable ones from Target. Blow it up, fill it up, crowd some chairs around, and dangle your toes in the water. On a really hot day you might even (gasp!) get in! And don't forget to invite your friends. It might sound a little corny, but after those initial "I haven't seen one of these since…" comments, everyone will start splashing around.
2. Go to the zoo. How long has it been since you hung out with the polar bears? It's time to reacquaint yourself with your inner animal lover. You'll be amazed how much better the zoo is as an adult (and it was pretty cool as a kid), and seeing the beauty and wonder of the animal kingdom on display is a huge mood lifter.
3. Watch movies outside. There are several different ways of doing this. One: Visit the drive-in; they're vanishing rapidly, and this movie experience is a must. Two: Watch for ads for cinema in the park. Lots of cities offer programs where they put up the screen and run oldies but goodies for free in public spaces. Three: Do it yourself. If you've got the projector and the IT capabilities, you can screen movies on a sheet in your backyard or on the side of the garage. Spread out a blanket and make some popcorn. Watching great flicks in the great outdoors is magical.
4. Shop your local farmer's market. Have you ever tasted a peach grown only miles away from your home? If you haven't, it's a must, and if you have, it still needs to be on your to-do list for the summer. Also great fun: shopping your local market and then hosting a dinner party that highlights all of that great produce. If you're worried it will be expensive, have friends join you for a day of marketing and cooking.
5. Brave the slide. Going to the water park used to be one huge highlight of your summer. Why should this year be any different? Revisit those wet and wild days with a day trip to the water park. Once you get inside the gates you'll remember instantly why slippin' and slidin' is so much fun.
6. Feel the music. No matter how big or small your community, there's a free concert happening somewhere this summer. This is a great chance to catch shows you might not normally be willing or able to pay for (the symphony or the ballet), or to be introduced to musical groups or styles you're not familiar with. Plus, regardless of if you like the music or not, summer + outdoor concerts = fun.
7. Ommmm. Summer is the perfect time to take a sunny weekend and bliss out. Take a couple of yoga classes, or check into studios offering immersions or other special classes that will help you feel physically fit, well rested, and centered.
8. Take a hike. It sounds kind of dorky, but urban hikes are a great way to get to know your city. You'll see secret passageways, historic buildings, and learn all the flora and fauna that grow in your area. It's an interesting and invigorating way to spend a Saturday. Just think of all the random facts you'll be able to spout come Monday morning!
9. Fly ball! If you've got a sporting team in your town, check into purchasing cheap tickets. Some baseball teams offer super deals (think $10 or less) if you take the worst seats in the house or come halfway through the game. Cheap tickets means more moola for hot dogs, beer, and Cracker Jacks. Just don't forget to sing "Take Me Out to the Ball Game"!
10. Mix it up. There are so many cool things to mix up in the summertime: ice cream and cool summer cocktails spring to mind first. Splurge on an ice cream maker, buy a book on vintage cocktails, or check into mixology classes taught at a local bar. Then get mixing and invite all your friends over for cocktails and cones by the kiddie pool!