Fun Ways to Save During the Summer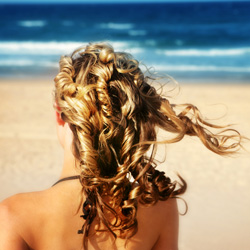 Popular wisdom holds that consumers spend the most money during the holiday season. That makes sense in theory, but it doesn't explain why our bank accounts are at an all-time low in June, July, and—yup—August, too.
The truth is we shell out a lot of money during the summer months, and most of the time we have no idea what we're buying. After all, warm-weather wear is much cheaper than the cashmeres and cable knits of winter, right? Yes, but when you see a summer skirt you like and it's only $20, you end up buying it in five different colors. Suddenly, that 20 bucks becomes $100—in a matter of 10 minutes. Also, you probably go out more during the summer. In the dead of February, you're apt to come straight home from work and curl up on the couch in time for Grey's Anatomy. Come June, it's margaritas on your favorite bar's outdoor patio four nights a week. And don't even get us started on the hefty price tag that comes with sharing in your friends' wedded bliss. Factor all of this in and it's not surprising that your bank account has dwindled by September.
Though it seems impossible, you can have a fabulous summer—without selling your designer shoe collection on eBay to finance it. Here, a few of our beach budget tips.
Entertain at home. Why pay $12 a pop for mojitos at your neighborhood boîte when you can make pitchers of the sweet stuff (see recipe below) and get your friends beyond buzzed for around $30? Or ask everyone to bring their favorite dish and have a potluck supper. You'll still get to hang with your friends and won't come home with an empty wallet.
Become an outlet shopper. One of the many benefits of summer staples is that most of them will always be in style. Sundresses? Check. Shorts? Check. Khakis? Check. Flip-flops? Double check. Which is why outlets—where you can find savings of up to 70 percent off—are a great place to shop for warm-weather wear. Come on, who's really going to know that those Gap capri pants are from last season? For a list of outlet malls in your area, log on to OutletBound.com.
Tap into your talents. You've been invited to five weddings over the next three months and you may need to take on a second job to afford the gifts. While it's customary—and, let's be blunt, expected—to give cash, you shouldn't have to go into debt to do so. Plus, no amount of money can compare to a handmade gift. We're not talking finger painting here, but if you have a talent, use it. Maybe you're an artist. Paint the couple a canvas they can hang in their new home. Great at gardening? Offer to landscape their outdoor space when the weather gets nice. Nimble with knitting needles? Make them a blanket that will keep them warm all winter. Cash may be king, but homemade gifts will live on for far longer.
Get to know your neighborhood. There are probably tons of things to do in your area, and some of them— like movie nights in the park, food festivals, or art exhibits— might even be free! Log on to your city or town's municipal website (you can find this by Googling the name of your town) and take a look at the calendar of events. It's not quite as chichi as a summer share at the beach, but local events can still be fun. (And if they aren't, at least it didn't cost you very much.)
Make Mojitos!
3 cups (packed) fresh mint leaves
9 tablespoons sugar
1 1/2 cups light rum
1/2 cup fresh lime juice
Reserve 6 mint leaves for garnish. Place remaining mint leaves in medium bowl. Add sugar. Mash with wooden spoon until mint is aromatic and oils are released. Add rum and lime juice and stir until sugar dissolves. Strain mixture into pitcher. (Can be prepared 2 hours ahead; refrigerate.)
Add club soda to pitcher. Gently stir. Fill glass with 1 cup crushed ice. Pour mojito over and garnish with 1 mint leaf and 1 lime wedge. Serves 6.