Get More From Your Closet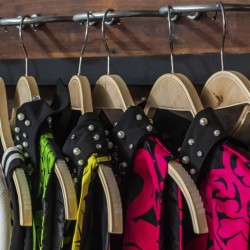 You're young. You're attractive. You're launching your meteoric career in a sophisticated city. And you'll be ready to take over the world as soon as you're wearing… that neon yellow tunic with no sleeves and a hood that your aunt gave you last Christmas?
We've all been there, sister. It is the day of a job interview, the night of a big date, or just another average morning when you're desperately trying to make it to the office on time. And here you are paralyzed, staring into your closet in your tattered bathrobe, realizing that there is not one single thing in there that you can possibly wear. Worse, you suddenly find that you've blown 45 minutes shoving things aside and holding them up in front of the mirror, which means that now you'll have to sprint to your destination and arrive really late, all sweaty and out of breath. If you're lucky, this will be enough of a spectacle to distract attention away from your yellow tunic.
What's a girl to do? Below are some tips to help get you out the door on time, looking and feeling gorgeous—no sweating required.
Shop more and shop smarter. Everybody is busy and on a budget, so extra shopping may seem like one more source of temptation you just don't need. But the more you do it, the better you'll get at finding bargains, sales, or brands that work best for you. Window shopping at stores out of your price range can often be a great source of new ideas, which you can replicate elsewhere for a lot less money. Try skipping a couple coffee breaks a week to pop into boutiques near your office or browse online.
Use your words. Try coming up with a few adjectives that define how you want to look. (Mine are "funky," "sexy," and/or "professional.") If what you're buying doesn't fit your adjectives, you'll probably regret it.
Clean out your closet. Be ruthless about getting rid of stuff you don't like. If that skirt looked bad last week and it looks bad right now, it is not suddenly going to look good tomorrow. A small wardrobe where everything is at least acceptable is much easier to face than a closet loaded with junk. It's also worth the little bit of time it takes to move this season's clothes to the top of your drawers for easier access.
Think outside the box. Try combining what you've already got in new ways. For example, maybe you have some cute summer capris that seem useless with an autumn chill in the air. But try them with some tall leather boots instead of your favorite strappy sandals, and you've got a brand-new look for a brand-new season.
Invest in a few accessories that you really love. It is absolutely worth shelling out a heftier chunk of change than usual for a small number of versatile items like a purse or pair of shoes that match everything, and a few key pieces of jewelry. Adding a special highlight or two can transform a dress that's just okay into something that makes you feel really put together and confident.
Plan the night before. Sure, you can get fashion paralysis at night, too. But getting your outfit for the next day picked out and ironed ahead of time means that you'll wake up in the morning with time to breathe. Use that time getting your mind truly in the game for work, or better yet, relaxing over the paper with a cup of coffee, luxuriating in just how fun and stylish your life truly is.