Getting Ready For Vacation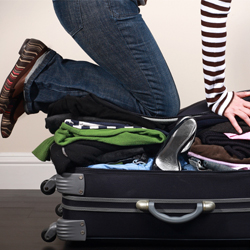 You're counting down the days until you fly off to Mexico for a much-needed respite. But will you spend half the trip worrying about what's happening back in the office? And will you return to a giant stack of work? With a little extra planning, you can enjoy the sun sans guilt. Here's how.
Check in with your boss. As you're planning your trip, give your supervisor a list of tasks you plan to complete before you leave and ask if there's anything you've left out. The days leading up to a vacation can be a whirlwind of stress as you juggle vacation plans and last-minute projects, so talk to her well in advance to help minimize surprises. Also, find out which projects she thinks need coverage while you're gone and which can wait until you return. Suggest a coworker who can handle questions while you're gone. Then on your last day let your boss know that you've checked everything off your to-do list.
Offer a coworker the chance to step up. For someone who's a little more junior than you are, covering part of your job gives them a mini-promotion. During the days leading up to your vacation, you might do some of your tasks together to make sure they understand what's expected of them. Give him or her the rundown on what you're working on and any contacts they may need while you're out. Also, list that person and their e-mail address when you set up an out-of-office auto-responder.
Give your coworkers a heads-up. I used to send an e-mail about two weeks before my departure letting coworkers or important contacts know when I'd be out of the office and who would handle my work. I generally ended it by saying, "I'm happy to handle any last-minute requests or answer questions before I leave." This gives people the chance to anticipate issues they might have while you're gone and plan accordingly.
Resist the urge to obsess over voice-mail or e-mail. You deserve a break, so turn off that iPhone. You can leave the phone number for your hotel with your contact back at the office, but be sure to tell them it's for emergencies only. That way if something really does go wrong, they'll have a way to reach you. Otherwise, you can relax knowing that things are running smoothly.
Ease back into the office. Try not to schedule any meetings during your first day back in the office so that you can catch up on e-mail and resolve any questions that pop up. Remember to take down your auto-responder when you get back to your desk, and be sure to show appreciation for those who picked up extra work. A box of imported chocolates or some locally grown coffee serves as a nice thank-you gesture.