Should You Go Back to School?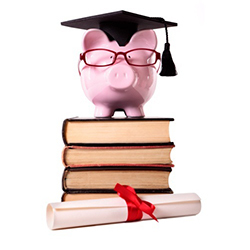 Even if high school and college are a distant memory, you're never too cool for school. Only this time you have many more options on where and how you choose to learn.
If you're really lucky, you might be able to swing some tuition reimbursement so you can earn a certificate or master's degree at your company's expense. Alternatively, you could explore less expensive options like a course at your local community college, with an adult education center, or through (un)classes. If time is an issue, then you could also consider taking an online course so you can work it around your schedule.
Read on for five reasons to hit the books and head back to school.
1. Learn marketable skills. Brushing up on skills like public speaking or negotiation can help you distinguish yourself professionally, command a higher salary, or land a new job. Of course, you can also use the opportunity to pick up completely new skills like Web design, wine tasting, or a foreign language. You never know when this information might come in handy!
2. Broaden your network. One of the best things about adult education or community-college courses is that they attract a diverse cross section of the population. You could be sitting next to a VP, a recent graduate, or a retiree, and all of these people could have interesting information to share. They might connect you to your next job or become part of your social network, so strike up a conversation before or after class.
3. Get out of the house or the office. If you're currently between gigs, then taking a course can be a welcome change of pace from job hunting. Or if you're continually asked to pick up the slack for other people at work, then saying you have to be in class by, say, 6:30 gives you a perfectly legit excuse to leave at a reasonable hour. Who could argue with someone who's committed to her personal and professional development?
4. Explore other interests. Whether you're stuck in a dead-end job or you're unemployed and unsure of your next steps, studying something new can help you learn more about yourself and your interests. Maybe an Indian cooking class will inspire you to launch that catering business you've been daydreaming about. Or perhaps taking a jewelry-making class will give you something to look forward to after a long day at work. Challenging yourself in new ways makes you a more well-rounded and better-educated person.
5. Gain a fresh perspective. Even if you've been working in your industry for a decade (or longer), taking a class may expose you to new ideas you've never considered. You and your colleagues do things a certain way, and you may not have considered other ways of conducting business. Even classes that don't relate to your job can have unexpected relevance, so don't shy away from taking a yoga or pottery class if that's what interests you. You'll return to work refreshed and ready to conquer