Should You go to Grad School?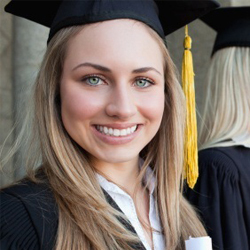 I went to grad school to get a master's degree in journalism, and while it was a great experience that led me to wonderful professors, inspiring classmates and colleagues, and a wealth of knowledge on how the world of journalism works in a city like New York, I went for all the wrong reasons.
As I entered my senior year of college, I still wasn't completely sure what I wanted to do, but I knew one thing was sure: I wanted to live in New York. I thought I wanted to be a journalist, but besides my three-year stint as a copy editor and news reporter at The Pitt News (my college newspaper and second home), I had never worked or interned in a newsroom. And the thought of being able to get a job in the coolest city in the world seemed impossible.
Rather than taking some time to think things through, I panicked and spent the next several months applying to some journalism schools. When I got into New York University, I took out all the money I could and moved to the big city.
Fast-forward five years. Here I am in a whole lot of debt, thankfully employed, making monthly loan payments larger than my rent, and somehow making it all work. While I loved NYU and everything it did for me, it was a very expensive way to figure out my next step in life. So when you're thinking about continuing your education, consider asking yourself these very important questions that could save you from loads of debt.
Question 1: How am I going to pay for it?
Whether you have the money saved or you're planning to borrow, grad school is expensive. The first question you need to ask yourself is where the money is coming from. If you're planning to take out student loans, figure out how much you'll need to take out each year, and if that amount includes living and other expenses. Try to avoid taking out any more than you need for tuition and other school expenses.
If you've already entered the workforce and are considering going back to school, meet with your supervisor to see if a graduate degree is something the company would consider paying for. Even if your company doesn't have a program like that, many businesses will pay for something related to continuing education, such as a GRE prep course.
Question 2: What is my main reason for going?
If you're thinking about going to grad school to learn, don't go. Instead, buy a book or read some articles online. If you're thinking about going because you're not really sure what you want to do (like my reasoning above), don't jump into it just yet. Take some time and think about what your next step is. It's better to get a job that you're not sure you love than spend tons of money on a degree you're not sure you'll ever use.
Question 3: Does my career path require it?
The best reason to get a graduate degree is that your career path requires it. These are positions like doctors, lawyers and teachers — all jobs where you simply won't hire you without that extra piece of paper.
My favorite way of putting it is, pretend you're walking into your local pharmacy. You go up to the counter and see an array of gum and candy, lotto tickets, and graduate degrees. You scan the list and see the one you want.
"I'll take that one," you say.
"That'll be $60,000," the clerk says.
You hand over the money, walk out, and put it on your resume. Now you can start applying for the jobs you want.
The second best reason is the connections that you'll make. There are some graduate programs where the networking benefits are truly worth the cost. They can keep you connected with other professionals in your field and will really help you down the road when you're looking for a job or thinking about a career change. Before settling on a graduate school, make a list of schools that have the top programs in your field. The better the program, the better the connections, making it more worth it to go.