The Guide to Meal Meetings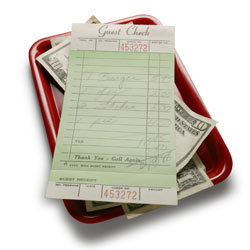 Leaving the office for lunch may seem like a dream these days since you barely have time to wolf down a Power Bar between appointments. But business meals are a great way to make contacts and give prospective clients or employers a glimpse of your professional persona. "How you behave at the dining table is how people believe you are in the real world," says Suzanne Bates, CEO of Bates Communications, a corporate coaching firm and author of Speak Like A CEO: Secrets to Commanding Attention and Getting Results. "It's about more than just using the right fork," she states. And breaking bread whilst doing business isn't just limited to the "power lunch" anymore. You can invite your contacts to breakfast, dinner, coffee, or even cocktails. Before you invite someone out, make sure they-and you-have a clear idea of why you want to meet with them, advises Diane Danielson, CEO of Downtown Women's Club, a professional networking site for women and the co-author of Table Talk: The Savvy Girl's Alternative to Networking. Not sure whether to go with casual coffee or serious spread? Read our guide.
Breakfast
Because most people have to get to the office before 10 a.m., breakfast meetings give you carte blanche to get right down to business as soon as you've ordered, says Danielson. Hotels are always a good bet, she says, because most of them serve breakfast and do so quickly. Point out a couple of items on the menu that look good to you to gauge your guest's response-you don't want to order an omelet with a side of home fries, bacon, sausage and pancakes if they're planning to order coffee and a muffin. And always pick up the tab if you did the inviting. Another reason why breakfast is a good option: it's usually cheaper than lunch or dinner.
Lunch
Definitely your best bet for the old-school corporate types who are used to blocking out the hours of 12-2 p.m. for lunches offsite. Plus, there's more time to socialize and get to know the person, which is extremely important in getting people to connect with you, says Bates. About halfway through the meal it's safe to start pitching without looking like an opportunist. Also, don't order alcohol. "The three martini lunch went away decades ago," she remarks. If your guest orders a drink, don't make them feel uncomfortable about it, but resist the temptation to join them.
Dinner
Reserve dinner only for people you know well (i.e. clients that have become friends) or for out-of-town business trips. Think about it: at the end of the day, most people just want to go home-not spends three hours with a stranger. Also, if your client or employer is a man, you might want to refrain from asking him to dinner, lest he get the wrong idea, says Danielson. "If you do go to dinner choose a restaurant that's unromantic, like a steakhouse," she suggests.
Coffee
A win-win situation. People appreciate coffee dates because they're quick, yet still get you out of the office for a bit. Or if you're an entrepreneur, and the local coffee house is your office, you'll appreciate the face time with a live human being. "Just make sure the place is Starbucks-worthy-cozy with comfortable chairs," says Kate Zabriskie, president of Business Training Works, a company specializing in etiquette and communications training. She also recommends that even if it's your fourth coffee date of the day, always order something. You don't want the other person to feel weird ordering and drinking by themselves.
Cocktails
While drinks may be the most fun option, they're not always the smartest. If you've never met the person before, or they're senior to you, don't meet for drinks. If they're around your age and as big of a lush as you are-bring it on. When in doubt, Zabriskie suggests giving the person an option of drinks or coffee to gauge what would be more comfortable for them. Also, limit yourself to two drinks. While your male colleagues may appreciate a girl who can drink them under the table, as Danielson points out, "there is a time to go home." Preferably on your own two feet.