Hiring Strategies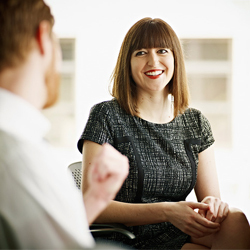 Since people are often on their best behavior during a job interview—and have probably spent hours perfecting their résumé—it can be hard to tell whether they're only "good on paper." That's what happened to Kristen, a supervisor for an accounting firm in New York City, who went through three assistants in 18 months before finding the right one. One candidate, fresh out of college, bailed after only a month when a better offer came along. Another lasted four months before she "flaked out and never showed up again," says Kristen. And candidate No. 3 seemed absolutely perfect, until a background check revealed that she had lied about getting a college degree. "Our firm takes the hiring process very seriously, but we weren't hiring the right people," says Kristen. "It was frustrating."
Yes, hiring someone you can trust isn't easy. And let's face it, no professional in a position to hire likes to admit to being a poor judge of character or overlooking a job candidate's major (or even minor) personality flaws. "None of us are magicians when it comes to reading people," says Rachel Choppin, principal of HR4You, a California-based HR consulting firm. Fortunately, though, there are ways to detect red flags early in the interviewing process. Here's what to watch out for.
Check it twice. Choppin suggests a thorough, side-by-side comparison of a prospective employee's résumé and the actual application form he or she completes on the spot. "Any discrepancies you detect are red flags," she says, adding that the application form is much more telling than the résumé. Also take note of the candidate's career progression and consider whether the particular position you're offering is a likely fit. That will help predict how long the candidate will stick around.
Focus on their personality. Too often, people hire for skill and fire for personality. But Choppin suggests a reverse approach: Hire for character and then train for skill, especially if it's an entry or lower-level position. "We find again and again that integrity counts more than skill," she explains. In order to get a true sense of the person, ask soul-searching questions, like what's most important to them, where they're coming from, and where they want to go. Spending more time with the candidate—a suggested minimum of three interviews—will help determine whether the candidate's personality fits with the culture of the organization.
Crisscross your questions. For example, ask what the candidate's favorite accomplishment is, and then follow up with his or her biggest mistake. "Look for a candidate that gives an honest, sincere response," Choppin says. And brownie points for the person who divulges what they learned from the experience. If the candidate hesitates for too long or scrambles to come up with an answer, consider it a red flag.
Know that actions speak louder than words. Pay careful attention to how the candidate sits during an interview, and whether he or she's just as attentive during interview 1 as interview 3 or 4. Also observe how the candidate interacts with you, your boss, and your subordinates. A major change in mannerisms or behavior based on who the candidate is talking with is something to be cautious of.
Get a second opinion. When it comes down to it, we have to hire someone we can stand being around for most of our waking hours. Since our individual biases get in the way of detecting a character flaw, it helps to call on other members of your team for their take. "We all have our own preferences when it comes to who excites us," Choppin says. "So bring in another person to look for anything you can't detect on your own.