At-Home Spa Treatments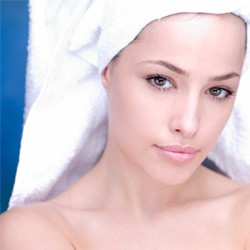 Ah, the spa—a working woman's version of utopia. Unfortunately, time and money can be the tag team that keeps you from visiting a day spa, but don't let these forces of evil defeat you. The next time you feel like you need a little pick-me-up, just head to your kitchen. (Though you'll want to check with your doctor or dermatologist first if you have allergies or sensitive skin.) The following scrubs and rubs are easy to make: No pricey products required.
Sugar Scrub
A simple sugar scrub makes a wonderful facial exfoliator because it's gritty and has a slight acidity that helps to get rid of dead skin cells. Added bonus? It'll leave your skin smelling sweet, too.
Mix 1 cup sugar with ½ cup olive oil. Add a squeeze of lemon juice if handy. Apply with a washcloth. Remove with warm water.
Honey Almond Mask
Honey and almond both have soothing and smoothing properties that make this a perfect mask for skin that's in need of a little TLC.
Mix 1 tablespoon honey, 1 egg yolk, ½ teaspoon almond oil, and 1 tablespoon plain yogurt. Apply to face and let sit for 20 minutes. Remove with warm water.
Vinegar Rinse
Vinegar helps to soften hair and get rid of product buildup. Just remember to use this one in the shower to avoid splatters and so that you have plenty of running water to rinse with afterward.
Mix 2 tablespoons apple cider vinegar with 3 cups (preferably distilled) water. Pour through hair after shampooing. Rinse well.

Avocado and Egg Conditioner
Eggs and avocados combine to create a rich, moisturizing hair mask. Again, use this one in the shower to avoid a mess and to make sure that you can easily rinse afterward.
Mash one egg yolk with one peeled avocado. Spread over hair and leave for 15 minutes. Rinse thoroughly. Shampoo and condition as desired.
Salt Scrub
Salt scrubs are quick and easy and make wonderful body exfoliators. Sand can also be tossed in if available.
Mix 1 cup sea salt with ½ olive (or other) oil. Add a splash of lemon juice or a few drops of essential oil if available. Apply to dry skin in a circular motion. Avoid any cuts or other open wounds. Rinse thoroughly.
Lemon Sludge
Lemons can be a brilliant whitener for nails, while olive oil helps to soften cuticles.
Mix 6 tablespoons olive oil with 2 tablespoons fresh lemon juice. Soak nails for several minutes each day. Add salt to create a "sludge" that can be rubbed onto nails. Rinse thoroughly.
Milk and Honey Bath
Cleopatra knew that milk and honey helped keep her skin soft and supple, and so should you. The lactic acid in milk helps break down hard skin, while the soothing properties of honey help keep the rest baby-soft. Indulge in a long bath whenever needed.
Add ¼ cup liquid honey and ¼ cup powdered or whole milk to a hot bath. Relax and enjoy.