Host a Brunch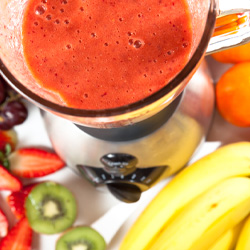 Weekend brunch is the best—that is, when you don't have to stand in line, wait too long for the waitress to refill your coffee, and then get scooted out the door before you've even had time to crack open the Style section.
But have you ever thought about making brunch at home? Sure, it involves a little work, but it's so much more relaxing. It's also a great excuse to have friends or co-workers over and can be much easier to pull off than a full-fledged dinner party.
These simple, sophisticated recipes will make you feel like you're having the best breakfast in town without ever leaving your kitchen table.
Herbed Spinach & Feta Frittata
A frittata is sort of like scrambled eggs gone designer. This one is light and perfectly savory. Serve it alone or with a side of your favorite bacon or sausage.
3 tablespoons olive oil
1 small red onion, finely chopped
2 garlic cloves, minced
6 ounces of washed baby spinach
½ cup chopped red bell pepper
8 fresh eggs
1 tablespoon fresh oregano
1 tablespoon fresh mint
1 cup crumbled feta cheese
Salt and pepper to taste
1. In a heavy, 10-inch, ovenproof frying pan, warm the olive oil over medium heat. Add the onion and sauté until just soft, about 3 to 4 minutes. Add the garlic and red bell pepper and cook for 2 to 3 minutes until pepper is softened. Add the spinach and cook until it wilts, about 1 to 2 minutes.
2. While the vegetables cook, whisk together eggs, oregano, mint, and ½ teaspoon each of salt and pepper. Spread the vegetables out evenly in the ovenproof frying pan, then pour in the egg mixture. Reduce the heat to medium low and cook, without stirring, until the edges begin to look set, about 3 minutes. Using a spatula, carefully lift up the edges of the frittata and let the uncooked egg run underneath. Continue to cook, without stirring, until the eggs are almost set on top, 5 to 8 minutes longer.
3. While the frittata is cooking, preheat the oven broiler. Sprinkle the frittata with the feta cheese and place it under the broiler. Broil until the top is set and the cheese is melted and golden, about 3 minutes. Cut into wedges and serve directly from the pan.
Serves 4.
Blueberry & Cinnamon Muffins
These muffins are great to munch on while the frittata cooks, and they easily satisfy anyone at the table with a Sunday-morning sweet tooth.
¾ stick (6 tablespoons) unsalted butter, melted and cooled
1 cup packed light brown sugar
½ cup whole milk
1 large egg at room temperature
1½ cups all-purpose flour
1½ teaspoons baking powder
1 teaspoon cinnamon
½ teaspoon salt
1½ cups blueberries
1. Preheat oven to 400 degrees. Put liners in 12-cup muffin pan. Whisk together butter, brown sugar, milk, and egg in a bowl until well combined. Whisk together flour, baking powder, cinnamon, and salt in a large bowl. Add milk mixture and stir until just combined. Fold in blueberries very gently.
2. Divide batter among muffin cups. For larger muffins use only 9 of the 12 cups. Bake until a wooden pick inserted into the center of a muffin comes out clean, about 20 to 25 minutes.
Springtime Fruit Salad
Brunch isn't always known for its nutrition, but this sunny fruit salad delivers a needed burst of citrus to help you recover from the weekend and keep you healthy for the next week.
4 best-quality seedless navel or blood oranges
2 best-quality ruby red grapefruits
3 tablespoons honey
1 star fruit, thinly sliced
1 cup seedless red or green grapes, cut in half
Julienned orange zest
1. Using a sharp knife, cut away the peel and white pith from the oranges and the grapefruit. Remove the orange and grapefruit segments from their membranes. Squeeze the juice from the membranes into a small bowl. Whisk the honey into the juice. Put orange and grapefruit pieces, star-fruit slices, and grapes into medium-size serving bowl. Pour sweetened juice over fruit, toss to coat, and sprinkle with orange zest. Chill at least one hour before serving. Makes 6 servings.
Don't forget beverages! If you're having guests over for brunch, be sure to stock up on a variety of teas, orange juice, and sparkling wine for mimosas, and of course lots of strong black coffee with ample cream and sugar.