Increase Your Energy at Work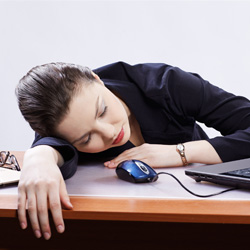 Consider this: You work 12 to 14 hours a day, feel exhausted all the time, and can barely stay awake long enough to watch Sex and the City reruns. Having fun with your friends is a thing of the past, you're eating meals at your desk, and you haven't felt rested in weeks.
If this describes you, here are a few tips to give you a shot of energy at work.
Manage your energy cycles. Energy is managed in cycles. You stretch your energy during work and restore it during rest. Long periods of continuous work or rest operate in the same way—they are both less-than-ideal states to be in. Manage your energy cycles at work by taking short breaks to stretch, have a glass of water, and recharge. Remembering to focus on your breathing can calm you down and dramatically improve your sense of well-being.
Do less. If your to-do list for today is spilling over to the weekend, you know you've got a lot on your plate. Stop for a minute. Pick a day, any day. Then, try something radical: Do less. Instead of having 30 things on your list, prioritize. List five or seven items that you absolutely must accomplish by the end of the day. Focus on those tasks first. Just once a week, use the "do less" technique and you may feel more relaxed and in control of your schedule.
Go ergonomic. You know you should have your monitor at eye level and your wrists resting comfortably when you're at the keyboard. If your company isn't willing to shell out for an ergonomic chair, a smart cushion will give your back additional support. At your desk, ensure that there is enough space for your knees to fit comfortably under the tabletop. If you use a laptop, consider investing in an ergonomic mouse that helps you relax your shoulders by giving you freedom of movement.
Unplug. If your work doesn't require you to be online all day long, log off. Check e-mail only occasionally, turn off that reminder, and let yourself go online only when you have completed a predetermined task. You'll feel less stressed when you don't feel the pressure of having to reply to every e-mail or iMessage that pops up on your screen.