Internship Do's and Don'ts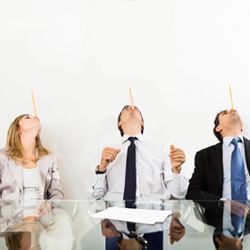 An internship in your dream career can help pump up your portfolio, garner valuable experience and the inside scoop on your chosen industry, and build a Rolodex full of important contacts. But once you've found, and landed, the perfect internship, what next? You could just show up and hope for the best. But follow these simple tips, and you could end your internship with a fabulous reputation and a fistful of information and friends that'll help move your career along swiftly and smoothly.
Look the part. Leave the tell-tale jeans and sneakers at home and dress for the success you're working toward. It may not be a secret that you're the office intern, but your potential shouldn't be camouflaged by college-dorm garb. It's always better to be mistaken for an executive than a clerk.
Know your place. You don't run the company—yet. Know who your superiors are and treat them accordingly. Also know that they're very busy people, and the more you can be trusted to take initiative and complete all of your assignments, no matter how small or mundane, the more respect you'll command.
Look, listen, and learn. The best thing about a fabulous internship is getting the insider scoop on your industry, so make sure to observe the processes, systems, and politics that are in place. Also sit in on meetings when you can and take note of not only what's being said, but who's saying it.
Go above and beyond. Take a cue from your friendly neighborhood latte provider and follow the Starbucks initiative: Just say yes. Say yes to any assignments that come your way, complete them before deadline—then ask for more.
Say thank you. Showing your appreciation to the person who gave you the internship as well as those who helped you along the way is a given, but what about giving them something to remember? If you're a graphic designer, for example, create simple yet clever thank-you notes that also act as your business card. Blending your appreciation with your talents will leave a lasting impression on all the right people.
Keep in touch. Once your internship is over, your career is just beginning. Start it off on the right foot by sending a follow-up e-mail with industry questions and ask your supervisor if you can use them as a reference. Staying in good standing with your internship contacts will enable you to send them personal promotional material and apply to job openings in comfort, when the time comes.