Interview Beauty Tips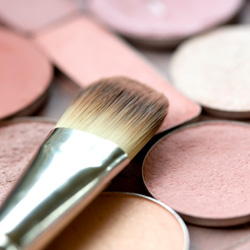 In terms of interview-appropriate makeup, what you don't wear is often just as important as what you do. The key to interview makeup is to keep it simple. This isn't the time to experiment with your style. If you normally wear a red lip – wear it. However, if you are a newbie, skip it. You don't want to risk it wearing off or rubbing onto your teeth or coffee mug. Also, stick to warm colors and tone down the glam eye shadow.
How to Wear Your Hair: Personally, I am a huge fan of getting a blowout. It gives me that extra boost of confidence before I hit a big meeting. Everyone gains their confidence in different ways. If you can work a great bun – wrap it up. Whatever hair style you choose make sure you look polished and put together. People might not notice when you are put together but they 100% notice when you aren't.
What to do if you've got the jitters? First of all, many people are unaware of their nervous habits. I'd recommend doing a mock interview with a friend and filming your responses and studying your body language. If you do play with your hair – maybe you should put your hair up in a bun to resist the temptation. Picking cuticles is a pretty common nervous habit. Try holding a pen or portfolio during the interview to keep your hands busy. Get a great manicure – to resist the urge to peel off your polished nails.
One beauty habit we always forget: Many people are so focused on their outfit they don't realize their shoes and/or bag is scuffed. These little details are important to take care off. Also, if you are wearing a peep toe shoe or sandal – get a pedicure.
Don't over spritz: Don't be heavy handed when you apply your fragrance and make sure it is a subtle selection.
Have nothing to wear: If you aren't sure how to style yourself for the interview you should research the company. Look up company employees on LinkedIn. Study their profiles photos. How are they wearing their hair, what type of makeup are they wearing? You can learn a lot about presentation from these profiles.