Jewelry Care Guide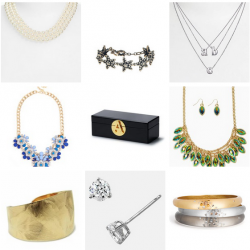 Whether it's a discreet pearl necklace or a brooch that doubles as modern art, jewelry is one accessory that can make or break your work wardrobe. Though many of the traditional dress-code maxims have gone out the window (goodbye, skirt suits only, and good riddance!), one of the easiest ways to add a little sparkle to your style is with a nice piece of jewelry. And whether those baubles cost you big bucks or just look like they did, keeping them in good condition should always be on your to-do list. Here, a few tips to keep in mind.
Store your stones. Claire Aristides, the London-based jewelry designer behind popular label Pink Jewellery, believes in a little bit of prevention when it comes to caring for your bling. "It's best to keep chain necklaces and bracelets in different bags or compartments to prevent a tangled mess." Segmented jewelry boxes, keeping pieces in their original containers, and even storing jewelry in separate silk bags all help to keep your collection organized. Many jewelers also advise that you keep your costume jewelry away from your fine jewelry. And don't forget to store a few options at the office—you never know when you'll leave home without a necklace or lose an earring midway through the day.
Keep it clean. Always spray perfume or hairspray before putting on your jewelry. It helps keep it from tarnishing or collecting residue, says Aristides. The same goes for taking off jewelry while you exercise, while you're in the shower, and while you clean the house. Unfortunately, even with such precautions you can't keep everything shiny and new forever. Most jewelers agree that fine jewelry should be cleaned every three months and professionally cleaned at least once per year. There are a variety of options for at-home cleaning including premixed jewelry solutions, silver polishing cloths, or good old soap and water. Just remember to wipe with a clean, soft cloth when finished.
Hit the jewelry store. Professional jewelers can provide more than just a good cleaning. Loose prongs, mounting malfunctions, broken clasps, fraying strings, and much more can all be caught early by a professional jeweler, who will be able to save your precious pieces before disaster strikes. If you're a regular customer, don't be bashful when it comes to inquiring about free cleaning and evaluations—many jewelers are happy to provide a gratis service for their loyal clients.
Get it insured. Many renters' and home owners' insurance policies cover jewelry to a certain value, but your fine pieces may need to be insured separately. When in doubt, have each piece professionally appraised (with the results recorded on paper) and then check your existing policies. If you find any gaps, speak with your insurer about the possibility of a rider being added to your policy or about separate policies just for your jewelry. Your great-grandmother's engagement ring may be priceless, but if anything were to happen to it, at least you'll be covered monetarily.