Last-Minute Party Ideas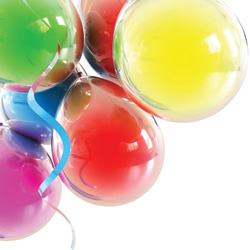 It's a glorious day, and you don't want to waste it by spending the evening alone on your couch in front of the TV. So you e-mail your girls and let them know that you're throwing a last-minute soiree. As they all respond with "Count me in" and "Wouldn't miss it!" you suddenly remember you'll only have an hour to prepare once the workday ends, and the only thing left in your fridge is a moldy lemon and a jar of pickles. Fear not: With these tips you'll be prepared to party—whether your guests are arriving in five days or five minute.
Keep your cupboards stocked. There are a few simple, nonperishable items that every happy hostess should have in her pantry: two bottles of wine, a jar of olives, mixed nuts, and some nice crackers. Consider this your party in a box. Feeling reckless? Buy up these not-quite-essential-but-oh-so-helpful items: a bottle of bubbly, dried fruit (apricots are nice), a jar of roasted red peppers in oil, sun-dried tomatoes, and a decadent bar of dark chocolate.
Have a no-fail recipe—and a backup plan. If your pantry is prepped, then your shopping list should be short and sweet. A simple pasta like penne with salsa cruda (recipe below) screams summer. Also pick up salad greens or fresh veggies, a hunk of cheese, and fruit (berries, cherries, or peaches) to serve alone or with vanilla ice cream. No time to shop? Try Williams-Sonoma online where you can order small numbers of frozen appetizers like arancini (fried risotto balls), crabcakes, maple smoked salmon, and gougers (cheese puffs that go great with red wine). Scout your neighborhood for caterers or markets that do same-day delivery.
Set a nice table. Half the party is the mood you create. Luckily, summer ambience is easy to come by—flickering candlelight and a nice breeze are really all you need. Gather candles to place in glass votive holders or on pretty vintage dishes. Stack summer fruits or citrus in a large glass bowl as a pretty centerpiece. Stockpile cute cocktail napkins and a set of inexpensive melamine plates. For an instant upgrade, check out Utility Home for graphic sets of matchbooks, place mats, sugar packets, and coasters.
Spic and span. Impromptu entertaining helps you find out just how quickly you can spot-clean your pad. In the bathroom, light a fragrant candle, wipe down the sink and counter, and give the toilet the clean sweep. Use the same routine for the kitchen—polishing up the counters and floors will freshen the whole room. De-clutter the living area, stacking books and magazines and fluffing pillows. Sweep off the porch or patio as well as the floors inside, especially in the bathroom and kitchen where crumbs tend to congregate. Prep for the party by throwing on some tunes, and your clean routine will fly by. Make sure to leave time to freshen yourself up, too. The hostess of a party should always look—and feel— beautiful.
Penne with Salsa Cruda
1½ lbs. tomatoes, cored and coarsely chopped
2 cloves garlic, minced
½ cup fresh basil, chopped
½ cup olive oil
3 tablespoons balsamic vinegar
½ teaspoon red pepper flakes,
½ lb. fresh mozzarella cheese, cut into bite-size bits
¼ cup pine nuts
Salt and fresh pepper to taste
1 lb. penne pasta
1. Prepare the sauce. Mince garlic and mix with balsamic vinegar, set aside. In a large bowl combine the tomatoes, basil, oil, vinegar, and red pepper flakes. Stir well and let sit at room temperature for about 15 minutes to blend the flavors. Stir in the mozzarella and let stand for about 10 minutes longer.
2. Toast the pine nuts. In a small, dry frying pan over medium-high heat, toast the pine nuts, stirring often, until fragrant and pale gold (about 1–2 minutes). Transfer to a plate and set aside.
3. Cook the pasta. At the same time bring a large pot of water to a boil. Add 2 tablespoons salt and the pasta and cook, stirring occasionally, until al dente. Drain well and add the pasta to the sauce, along with the pine nuts. Toss to combine and to slightly soften the cheese. Season to taste with salt and black pepper. Serve warm or at room temperature.
If you'd like to add meat to this recipe, 2 oz. of sliced prosciutto can be tossed into the pasta along with the pine nuts.